The modern-day lyrical ode is a sensual picture taken with a camera phone and then shared on Twitter. I can state it definitively. As proof of this: Kim Kardashian tweeted a picture of her butt to, like, millions of people — but mostly to Kanye West, her boyfriend and the father of her child. It was the most romantic thing to have happened since Mariah Carey tweeted her breasts at Nick Cannon an entire week ago.
Kanye's tweet was met with seas of fan responses, mostly comprised of emojis that were crying for various reasons: crying from laughing, crying from appreciation, just crying in general. The emoji is the official language of the Butt Tweet Critic. [Just Jared]
But apparently neither Kim nor Kanye really feels the need get married; he feels no need "to make their relationship official in the eyes of the law," and she's burnt out on weddings after her TV special that lasted but 72 days. Plus, the Butt Tweet is more binding than holy matrimony anyway. [Radar]
---
G/O Media may get a commission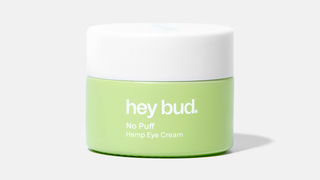 15% off
Hey Bud - No Puff Hemp Eye Cream
Mischa Barton has opened up to People about her mental state in 2009, and it's really sad. "It was a full-on breakdown," she said. "I was under enormous pressure... It was terrifying, straight out of Girl, Interrupted."
"We thought 'Work hard, play hard,'" she explains, adding, "Nothing could have prepared [my parents] to have their children jump into the overtly sexualized and crazy world of LA." After being put on 5150 psychiatric hold, the actress began to get her life back together — of course, though, vicious tabloids criticized her for gaining weight, i.e., for not being 18 years old anymore. Perez Hilton, notably, dubbed her Mushy Fartone (which is the most idiotic bullying nickname ever concocted by man or beast).
But Barton has moved on: "I've learned a lot. I'm stronger now, and excited for what's ahead." She's filmed a supernatural thriller AND a TV pilot, which is not very good, but it's good to see her working again! [People]
---
It doesn't look like Rebel Wilson will be signing a deal with a weight loss company any time soon. In an interview with Extra, she said, "Even though I'm on a TV show, I don't really care what I look like that much and I think women out there should just be happy with the way they look." Yay for body-positivity!
Buuuuut, unfortunately, that also might have a bit to do with the fact that ~60 percent of the jokes on Super Fun Night are about how Rebel Wilson is fat — which she vaguely hints at: "What's interesting is when you sign deals to be in TV shows or movies, you can't really change your appearance. So if I wanted to do a Britney or shave my head, I couldn't really do that."
In closing, did you know that Rebel has a law degree and an arts degree? What a woman. [The Daily Mail]
---