A few days ago, Kim Kardashian said that what she got most from her relationship with Kanye West was an appreciation of privacy. The new cover of French fashion mag L'Officiel Hommes features Kimye's idea of what "privacy" is, whose definition clearly got switched to "maybe fucking on a magazine cover" in the Oxford English Dictionary while we were all sleeping. Damn you, nocturnal semantics elves.
Meanwhile, a more PG-rated Kim covers this month's Cosmo—like I said: privacy!—and says that she judged Kourtney when her unmarried big sister got pregnant in 2009: "I was like, 'You're not married! How could you do this?' I was really firm and strict. But she was like, 'Marriage isn't what I want.' And later, I realized she had a better family life than I did."
And on possible nuptials with 'Ye: "[Marriage] is something I know that we both want in our future, but I don't have this sense of urgency about it," she revealed. "I have this best friend who understands me and helps me through all my tough experiences, and vice versa, you know? It just feels like this is it for me." [Bossip, Just Jared, The Cut]
---
G/O Media may get a commission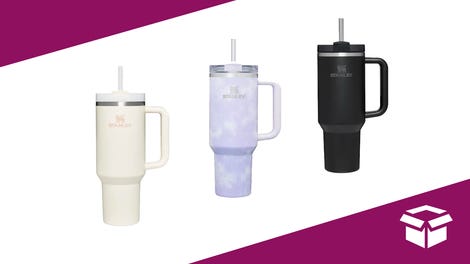 Up to 45% off
Stanley Cup Sale
Movie star Jennifer Aniston acts like movie star, everybody poops themselves with indignation. Or at least this source on the set of Untitled Elmore Leonard Project, who says that Aniston ignores co-stars Isla Fisher, Tim Robbins and Will Forte:
"The only person who doesn't eat with everyone else is Jen. She quickly grabs a lunch to go and leaves." [...] "All the actors ride in normal production vans when they head to lunch, but Jen has her own luxury SUV."[...] "And not only is Jen's private trailer miles away from the set, but she heads all the way back there each day to eat her lunch away from everyone else. Her behavior is a clear indicator to everyone that she's not approachable. And it's just unnecessary. There's no reason why she has to act any better than anyone else on that movie set."
Yeah. The fact that anyone thought she wasn't like that? That means a team of people whose names nobody knows is VERY good at their job. If they let me know where their office is, I will send over some breakfast sandwiches. [Radar Online]
---
In response to Seth MacFarlane's yeesh-worthy joke about their "date night," Chris Brown actually talked about his 2009 assault on Rihanna at Elton John's Oscars party/AIDS benefit: "People attack me and criticise me, it happens all the time. But they don't know me, and they don't know us. It doesn't bother me anymore. Other people can judge us but they don't know anything."
And: "Sometimes you row, you fight, with the one you love and things get said, stuff spirals. That night was the deepest regret of my life, the biggest mistake. But she loves me – what can I say? I'm forgiven… but, yes, I worked hard for it." "I've learned a lot since that night and I've grown up. I was very young and I took a lot of stuff, fame, for granted. I didn't understand it. The support from those who do know me and the fans, who are incredible, got me through." [The Sun]
Rather surprisingly, Elton John was one of those people. [Page Six]
Brown arrived sans Rihanna, in a leopard tuxedo, and reportedly flirted with other ladies. [Us Weekly]
---
"Spies said Charlize Theron 'stayed near MacFarlane all night.'" [Page Six]
"Charlize was very chatty with Seth and they shared a laugh in between his performances," an onlooker tells E! News." [E!]
Nooooo, please let this be just the random media-pairing generator and not a real thing that might happennnnn.
---
Here's video of your spirit animal Jennifer Lawrence ordering McDonalds on the Oscars red carpet. [Gossip Cop]
Also: J. Law is back to brunette for Catching Fire. [Us Weekly]
---
Prince Michael Jackson will make his acting debut on 90210. [E!]