Stop. Sit down. Stand up. Sit back down. Slowly! It's time to pick up a few lessons about social media, naked photos and new journalism from the tech prodigy Kim Kardashian.
In a recent interview for the podcast Re/code Decode with Kara Swisher, Kim explains why she loves Twitter, describes Snapchat as "intimate" and admits she's not that into Facebook ("I don't know why I'm not on as much," she says). Kim also talks about coming up with the idea for her Kimoji app two years ago and hints that there's an election-themed Kimoji set in the works, as well as "Kimoji merch."
Swisher, a bit too accurately, describes Kim on the podcast as "entrepreneur, reality star and digital kingpin." Here's Kim explaining how she uses Instagram by basically explaining how everyone uses Instagram:
"I find Instagram to be my vision of what I am doing at the moment, of my curation of beautiful things. I post just random scenery and things that I find to be interesting and cool. You can see where I'm at in the world and you can kind of follow me through my journey or what events I'm at or if I'm getting ready. It's little bit more in-depth but all through imagery obviously."
I personally only use Instagram for posting taxidermy photos, but to each her own. This is Kim's second interview with Swisher on the topic of social media. Because there's always more to learn from a person who claims she keeps about 30 percent of her life to herself and who still owns a BlackBerry. Let's see.
Kim, on doing her own social media posts instead of maybe letting Jonathan Cheban do it so he can have an actual job:
"I do everything myself except for actually posting on the app. I write everything, I choose everything. I'm just not really a coder. All the technical stuff, I don't really do, but I post every word. I find it to be super inauthentic if you were to have someone posting for you. I don't get that. Don't be on social media then."
G/O Media may get a commission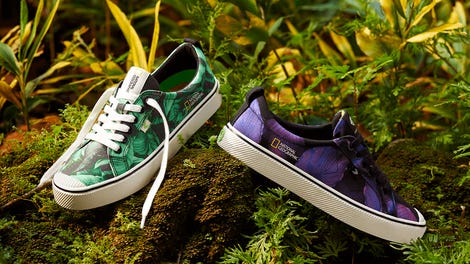 New New New
Cariuma + National Geographic
On using Snapchat to show her personality:

"I did not understand the importance of Snapchat for a while...I felt like it was maybe a little bit too invasive just because I felt like I share so much. If I'm filming all day the last thing I want to do is get my phone out and start filming more.
"Snapchat, you can be very random and post whatever you want and I feel like you can see my personality the most on Snapchat. I can feel like you can just be silly, we can sing in the car, put funny filters."
On how she used to lie about not reading tabloid stories but now she's not lying:
"I can truly say that I actually don't look at them and I don't care. I used to say I didn't, but I really still cared. I'm at a point where I really don't care so it doesn't affect me. But I don't think that a lot of people are at that phase, especially if you're a young teenager."
On her thoughts before publishing nude photos on social media:
"I think, Is this how I feel? Is this a good picture? I don't think, like, I'm gonna post this to see the crazy controversy and the reaction. When I posted this photo and I had blonde hair and I put the two censor bars, I truly was baffled that people still cared and the response that people gave...They've seen me naked 500 times!"
"My personality has never been, 'I'm such a feminist and follow me and be naked and be comfortable. If you are conservative and that's how you are comfortable, more power to you. I respect you. You don't have to look at what I do."
On why she loves being able to respond to news stories:

"I don't have a problem with people reporting on things, except for when it's not accurate. I'm so open. There are so many ways to get to me to find out if it's accurate or not. Old journalism used to be so accurate, and it's just not like that anymore."
On whether she has plans on doing a Virtual Reality project:

"No....no....no."
---
Image via Getty