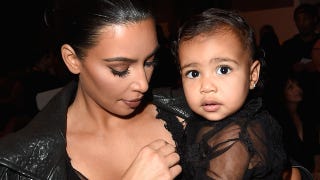 When we think of the world's most hardworking and industrious celebrities, chances are that Kim Kardashian doesn't immediately spring to mind. Still, Kim klaims that she had to get a job in high school just like everybody else and she's going to insist that her daughter North West do the same.
In an interview with ES Magazine, Kardashian discusses how she had to learn to scrap on the rough and tumble streets of Bel Air:
"I saved up for this Dolce & Gabbana dress I really wanted, or like in high school these Prada shoes that my parents wouldn't buy me...And I remember they were $400, and I had to save for the entire year to get them ... We didn't get anything [from our parents], we had to get a job if we wanted it. So I was working in a clothing store and I would save and save."
It's like something out of a Dickens novel!
Regardless, it's hard to deny that Kim knows how to hustle or get mad at her for wanting to instill a work ethic in her baby daughter:
"I was saying that earlier to my friends, 'I wonder what [North's] first job is gonna be'. And they were like, 'What? She's gonna have a job?' and I was like, 'Are you kidding me? Of course she is'. She will have to work for what she wants."
Maybe she could be the first baby leather leggings designer who is actually a baby.
---
Get ready to have your day ruined: Katy Perry had to cancel her 30th birthday trip to Egypt over "safety reasons" so it looks like you and the rest of the KP entourage will have to find something else to do for the next three weeks. Maybe an indoor water park? [Billboard]
---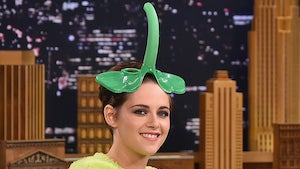 Kristen Stewart says that she's gonna take a li'l break from acting to follow other creative pursuits.
"I'm taking some time off because I've been working for two years. I'm an actor and that's my art form, and because I started that so young, I've always felt intimidated and insufficient when I think about other forms of art I want to create," she told USA Today. I'm sure we'll be as kind to her as we are to all other famous young women who decide to try something new. [Just Jared]
---
Images via Getty.