The Telegraph's tremendous profile of Sharon Osbourne describes what it's like to be married to a person who vacillates between a rhinoceros off his meds and Jabba the Hutt on a good day. I subscribed for the Telegraph's 30-day free trial for this article, so here, for you, are the facts:

1) There were six "other women," she says, including "some f*cking Russian teenager" and their cook.
2) If you can, resist wheeling food around this man. "Basically if you're a woman giving Ozzy either a back rub or a trolley of food, God help you."
3) He buys cars and then crashes them everywhere. "[A]nd not only was there the Russian but he was buying Ferraris! Three of them! And Ozzy can't drive! So he was just taking them out and crashing them."
4) At some point in 1987, every member of the Osbourne family went batshit crazy when Sharon wore a denim pinafore, the children screamed, and Ozzy held up a balloon, possibly in a foiled escape attempt.
G/O Media may get a commission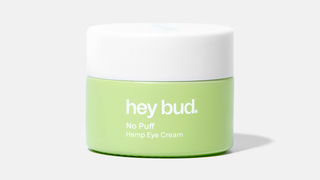 15% off
Hey Bud - No Puff Hemp Eye Cream
But as far as the world is concerned, the point of the interview is that she calls Kim Kardashian a ho(!!!!!!), which Sharon knows damn well is going to add some mileage to this interview:
Kim says she's doing everything in the name of feminism, but that's not feminism! Those girls live off their bodies, half of L.A. has been through them and everything they do from the sex tape to the plastic see-through dresses and the gym wear is about sex, not female progress. And listen: God bless them. If Kim wants to show off her body, fine. But that's not feminism, that's being a ho. And there's nothing wrong with being a ho, but always remember what you are.
What the hell, Sharon, Kim Kardashian told E! News last night. She never claimed to be a feminist:
...I've never been like the 'free the nipple' kind of girl so...if I post a photo, I post it because I like how I look. So she kind of misquoted me on that and I thought it just looked really, like stupid.
Important, thank you, everyone.

---
Kim Kardashian insists on a strict diet for the surrogate carrying their third child, a girl (whose forthcoming arrival North West frankly does not appreciate, by the way). [People]

The guy who plays Pennywise DOES NOT look like Pennywise in real life! He's been a hot actor masquerading as a clown! He does not wear clown shoes! He could be anywhere at any time! Ahh! [The Sun]
Kate Middleton can not stop eating sweet and spicy foods, despite puking. [Inquisitr]
The Stranger Things kids look a lot like the It kids, so much so that Emma Watson accidentally captioned her Instagram photo with the It cast as the Stranger Things cast and then quickly deleted it. This is according to Finn Wolfhard, who's in both Stranger Things and It. [People]
Famous person Margot Robbie didn't know about infamous person Tonya Harding til she read the script for her titular role in I, Tonya. The Olympic figure skater became a national symbol of class divide after it was discovered that her ex-husband was associated with a physical attack on her competitor. [Vanity Fair]