Kim Kardashian was rushed to an L.A. hospital in tears on Tuesday night after she felt something had gone awry with The (Second) Most Important Baby of Our Time, shortly after she got off a plane from Paris. (She was seeing a Givenchy show with Kanye West.) She's fine, fortunately, and was sent home the following day with some medical advice: Ironically, the woman famous for doing nothing to be famous for was advised to stop working so hard.
Quoth a source:
"Kim's not respecting her pregnancy. She's running around, working out seven days a week. She's working with two different trainers to control her weight, including Tracy Anderson and a pregnancy trainer. She's scared that her ass is as big as a couch and is going south, but she is having a very rough pregnancy, and doctors have ordered her to slow down."
So stop seeing so many Givenchy shows with Kanye West and "respect your pregnancy," Kim, whatever the fuck that means really. [Radar Online]
---
G/O Media may get a commission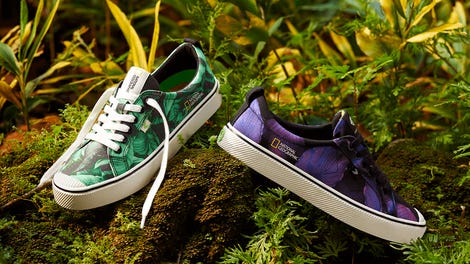 New New New
Cariuma + National Geographic
Chelsea Handler jumps into the Taylor Swift/Tina Fey/Amy Poehler/Athena the huntress/cartoon Charmin' bear fracas:
I think [Swift's] was a bold statement, but I'm not on anyone's side because I just don't care enough. I like that she's being that vociferous about something that she thinks they were out to get her. They were clearly making a joke just about her demeanor, which is embarrassing. I mean, she's just dated so many men.

My theory about Taylor Swift is that she's a virgin, that everyone breaks up with her because they date her for two weeks and she's like, 'I'm not gonna do it.' And they're like, 'Oh, well, forget it. Then I don't want to date you,' Every guy thinks they're going to devirginize her, and they're not. She's never going to get devirginized, ever, ever, ever, ever."
So like, can we safely deduce that Everyone is Mean yet? Everyone is Mean. [Us Weekly]
---
Okay, so Justin Bieber might just be having a mini-tantrum, or he might be having a hardcore Network-style breakdown. I don't speak Famous Snack Cake in Extended Adolescence, so it's hard to tell. El Beebo unleashed a 13-tweet manifesto about rumors and drama and rumors and God and rumors and why his shirt was off that time:
rumors rumors and more rumors. nothing more nothing less. might talk about them 1 day. rt now im just gonna be positive. cant bring me down. im focused on the good things in life. im blessed and not forgetting it. im giving back every day for it. cant phase me. fake stories to sell papers i guess are part of the job. but im a good person. i know that. u cant tell me different. we know the truth as long as my family, friends, and fans r with me u can say whatever. we are all equal in God's eyes & we have a responsibility to each other.
So make up stories about fake fines and make no mention of the positive....or say when i came out of my show with my shirt off because after performing for 2 hours i might be sweaty i was going into a club (really?) or any girl i stand next to is my girl or that i dont care, or that i dont feel, or that a 19 year old going to a club in europe is wild...
and be careful of the judgement u pass but know this...im only judged by one power, and i serve him. so yeah I will continue being me. i will continue to serve, to perform, to care, to love, to smile, to dance, to play, to sing...and u are welcome to join, because i carry no hate. We got to much love for that. Im about the music.
The worst part is that he can't even join the Hollywood Bible study youth group because his ex Selena Gomez is in it. [HuffPo]
---
In middle school, some asshole girl gave Jennifer Lawrence invitations to her birthday party to hand out to other students, a party which our buddy J-Law was not invited to. "But that was fine, I just hocked a loogie on them and threw them in the trash can. Don't worry about the bitches - that could be a good motto, because you come across people like that throughout your life."
She also speaks on her reputation as a so-called regulation hottie: "As for being a sex symbol, I don't think of myself as sexy and, obviously, it's not true. I'm going to try to push that out of my mind because it makes me queasy." [Express UK]
---
MacArthur genius grant recipient Jessica Simpson confirmed on Jimmy Kimmel Live that she is having a male child.
The crazy thing is I never knew a wiener could make me nauseous," the 32-year-old said [...] "Well, I guess I just told the world that I'm having a boy! I can't believe I just did that, that was not planned … I just did it so crude, I feel awful!"
---