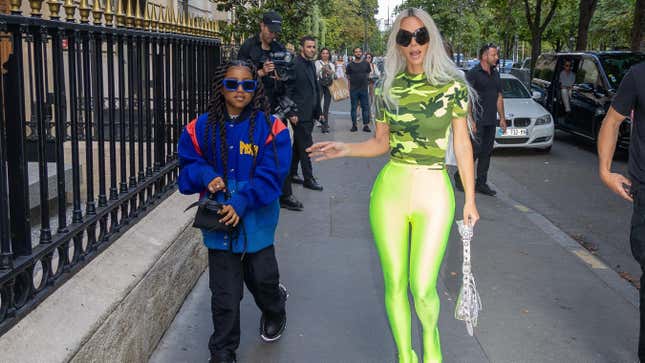 Far be it from me to vocally tell a mother how to parent, but I will use this opportunity to side-eye Kim Kardashian's latest momager move. Earlier this month Kim, under her company kompany, Kimsaprincess Inc, filed four trademarks under her daughter North West's name. The trademarks were for toys, general merchandise advertising purposes, "entertainment in the nature of providing information in means of a global computer network in the fields of entertainment and pop culture," and skin care. Call me old-fashioned, but I am of the opinion that a 9-year-old doesn't need to have their own skin care line.

Britney Spears Escapes Family Drama By Going to First Bar
North's skin care trademark, which was filed on March 10th, states its for the purpose of "Non-medicated skin care preparations; Skin moisturizers; Skin lotions; Skin creams; Skin cleansers" and serums like "Facial oils; Body oils; bath and shower gels; bubble bath; body powders." Nail care and hair care are included in the trademark as well. Since trademarks don't expire and are valid for as long as the owner makes use of them, this filing could simply be setting up a business for North in the future, when she is no longer 9.
It seems that almost all Kardashian-Jenner kin are bestowed with brand options before their first birthday. In 2019, Kim trademarked her 2-week-old son Pslam's name to sell hair accessories and toys. Stormi, Kylie Jenner's daughter, has three trademarks filed to her name. The family also allegedly filed five trademarks under Rob Kardashian and Blac Chyna's daughter Dream's name before Chyna could. And, in 2017, when Chyna was still in a relationship with Rob, she attempted to trademark her future married name, "Angela Renée Kardashian" but was denied. According to the Kardashian's lawyers, the family would have "suffer[ed] damage including irreparable injury to their reputation and goodwill" if Chyna had used their family name.
Of course, trademarking their kids' names could arguably be to protect them from others using their moniker to sell products. But we're also talking about a bloodline whose birthright is capitalizing (Kapitalizing) off of their surname. And their resistance to Chyna using the name lends to the theory that they're trying to have tight control over the money-making brand. The family business is the family business.
Business acumen aside, potentially launching a child skin care line makes me want to Thelma & Louise myself off a cliff. The pressures young girls are under to look a certain way is already so extreme, I'd love to stave off the inevitable obligation they'll probably feel to one day have a skin care regimen. Also, god forbid, what if North doesn't want to sell serums or hock tummy teas like her mom and aunties? What if we just let her be a kid? Hopefully, the filed trademarks will remain unused until she can make those decisions for herself. Though I'm not holding my breath for Kim, daughter of Kris, to leave a market untapped.