Apparently everyone's been blabbing the past couple of days about whether or not Kim Kardashian's famous butt is a real butt or a surgically enhanced butt, because she BETTER NOT HAVE DONE ANYTHING TO HER BUTT because THAT WOULD BE LYING and the American public deserves 100% accurate celebrity butt info. Well, Kim Kardashian would like all you dumbos to shut up about her butt.
I'm seeing all these nonsense tabloids claiming I have butt implants-injections. Get a life! Using pics of me 15lbs skinnier (before I had my baby) comparing to me now! I still have weight to lose. Anyone who has had a baby knows how hard it is to lose weight(especially the last bit of weight) & your body totally changes! Making fun of me pregnant & making fun of me trying to lose weight now shame on you. I'm not perfect but I will never conform to your skinny standards sorry! Not me. And BTW I've lost a lot so far & I'm proud of that! Don't give young girls a complex!
I'm for it. [Twitter]
Also she's mad at the 'bloidz for Photoshopping her. [Twitter]
---
There's a reason why Korn's Jonathan Davis's dreadlocks are so robust: they're full of TRUTH-BOMBS. When asked about the subtext of his new single, "Spike in My Veins," the performer explained that he just wants sheeple to "wake up" and recognize that President Obama is using Miley Cyrus and Kanye West to distract them from his Secret Muslin Lizard People Dictatorship. OBVIOUSLY.
Korn frontman Jonathan Davis is unleashing the mother of all conspiracy theories — President Obama's secret agenda to become a tyrannical dictator with Miley Cyrus, Justin Bieber and Kanye West's assistance!

We asked Davis about his band's new "Spike in My Veins" music video — which is filled with clips of Miley and other pop culture phenoms — and suddenly it was all aboard the crazy train.

You gotta see it ... right in the middle of LAX, Davis spewed a theory about Obama using celeb scandals as a "distraction" ... while he screws us out of our freedoms.

Por ejemplo ... JD claims Miley's VMA twerkfest was really a smoke screen for something way more nefarious.
G/O Media may get a commission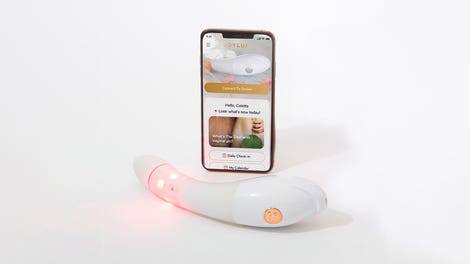 $50 Off
Joylux vFit Gold Device
Not that it's unreasonable to suggest that the American public prioritizes pop fluff and petty annoyances over hard politics and genuine global human rights abuses—we do do that—but it IS absurd to claim that Obama invented twerking and Miley's tongue is a black-ops arm of some global shadow-government or whatever. Miley's tongue is all Miley, I'm afraid. [TMZ]
---
Conor Oberst is suing the woman who accused him of sexual assault in the XOJane comment section.
Emo king Conor Oberst from the band Bright Eyes insists he NEVER raped a 16-year-old girl back in 2003 — despite the girl's public claims — and now he's suing her for more than a million bucks.

Conor just filed a defamation lawsuit against Joanie Faircloth, who claimed the rock star raped her ten years ago after one of his North Carolina shows.

Faircloth made the allegations in December in the comments section of the website xojane.com — claiming Conor came on to her backstage after the 2003 concert and later forced himself on her ... after she made it clear to him that she was a virgin and wanted to stay that way.

Joanie wrote, "Conor took a lot from me including my virginity, my dignity, and self-esteem."

But Conor insists the encounter is made up — in fact, Conor says he never even met her.

Conor claims Joanie's just an embittered superfan, who gushed about him and Bright Eyes as recently as January 2013 — writing about how the last time she saw Conor in concert is her best memory ever. She even listed "Bright Eyes" as her favorite band on Facebook.

Conor says her lies have damaged his reputation.
Ugh. [TMZ]
---
Mel Gibson's ex (and domestic abuse survivor) Oksana Grigorieva has filed for bankruptcy.
In the documents obtained by Radar, Grigorieva claims to have $48,676 in personal property, but a whopping $438,179 in debt.

Grigorieva says she only has $10 in cash — but she's got a $5,000 piano from her fleeting music career.

A lot of Grigorieva's debt comes from credit cards, totaling more than $150,000, but it's her long list of attorneys while battling Gibson is the messy custody fight that really cost her — to the tune of $250,000.

Gibson pays his ex $20,000 per month in child support and she also receives $2,500 per month from ex Timothy Dalton with whom she has a son, Alexander.

And as part of an agreement with Gibson, Grigorieva gets a total of approximately $3 million over the course of years until 2016.

As Radar reported, Grigorieva turned down a first offer from Gibson of $15 million in 2010.
Can't stop thinking about what a great deal Timothy Dalton got. [Radar]
---
Images via Getty.