The investigative site MuckRock, which focuses on filing Freedom of Information Act requests, has gotten Rowan County Clerk Kim Davis, with some difficulty, to release 482 of her recent emails. Among other things, they show that the majority of the county clerks in Kentucky want to issue marriage licenses to whoever applies for them. But most of them also wanted distinct licenses to be used for same-sex couples, while also still preserving the ones that read "bride" and "groom."
The emails date from August 1 of this year to the present; Davis first made news for refusing to issue marriage licenses to gay couples around July 8. She defied a federal court order directing her to issue marriage licenses on August 13.
MuckRock's Shawn Musgrave walked Davis through the process of releasing emails electronically, which she had some difficulty with. Davis originally offered to fax them, writing, "I am old school on this email stuff."
The emails show that the Kentucky County Clerks Association (KCCA) held a meeting on "the marriage form issue," which Davis attended, and where KCCA President Chris Jobe asked everyone to "respect each other's feelings."
Several of the clerks at the meeting said they needed a distinct form for non-straight couples, according to the meeting minutes MuckRock obtained in the email dump:

"Many clerks want to have two forms for the marriage license," the July minutes read. "Some people have complained that they do not want Party One nomenclature instead of Bride or Groom. We feel we need to continue with two applications for the present. Also there was discussion on the addition to Gender on the Marriage License. It would help identify the person in research in future years."
G/O Media may get a commission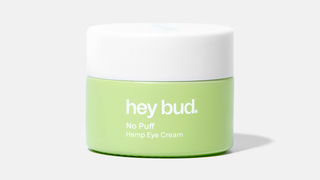 15% off
Hey Bud - No Puff Hemp Eye Cream
Afterwards, the KCCA sent out a survey on how to handle marriage licenses in the future, giving the clerks six different options. They could keep issuing them in the clerk's office and keep the "bride/groom," forms, keep issuing them in-house and create gender-neutral forms, or even vote to let licenses be issued only online, with clerk's offices collecting a recording fee from afar.
The emails show that 54 of the state's 93 clerks voted to keep issuing marriage licenses in-house, and to create two separate forms: one where the applicants are listed as "bride" and "groom,"(the "traditional form," as the survey refers to it) and one where they're listed as "First Party" and "Second Party." Another 24 clerks wanted to move the licensing process online. And just two clerks said they would rather keep only the "bride" and "groom forms." There's no indication of how Davis voted.
The emails also show that two clerks emailed Davis supportive messages. The include Billy Joe Lowe, who also sent all the county clerks emails encouraging them not to issue same-sex marriage licenses.
Lowe said in July he'd only give licenses to opposite-sex couples, telling WFPL radio: "I worry more about doing the right Christian thing than worry about what some idiots up in Washington, D.C., think." In the emails, he tried to tell his fellow county clerks they could face "criminal charges" if they issued licenses to same-sex couples, which hasn't turned out to be accurate.
---
Contact the author at anna.merlan@jezebel.com.
Public PGP key
PGP fingerprint: 67B5 5767 9D6F 652E 8EFD 76F5 3CF0 DAF2 79E5 1FB6
Photo via AP Images