A Mississippi high school senior was booted from his football team after wearing pink cleats in support of breast cancer awareness. Now he's back on — as long as the cleats stay off.
According to USA Today, 17-year-old Coy Sheppard first wore the cleats to an October 8 game. His coach Chris Peterson reprimanded him, but then he wore them again to practice the next week — and was kicked off the team. Sheppard says he wore the shoes to honor his grandmother and step-grandmother, who both survived breast cancer, but District Deputy Superintendent Tom Duncan says the reason he wore the shoes doesn't matter — he was disciplined because he failed to listen to his coach's orders the first time. Sheppard hired a lawyer and considered suing the school, but they've now reinstated him — minus his cleats.
Sheppard's lawyer says everybody's happy now, and that his client is cool with not wearing the cleats because "they were strictly for the month of October for breast cancer awareness." But why did Peterson bar him from wearing them in the first place? I somehow doubt he had a principled opposition to the commercialization of breast cancer. Was it because the shoes were — horrors — pink? Interestingly, USA Today says Sheppard had worn other colored cleats previously without any problem, and other players wore pink gear of other kinds to the October 8 game. So is Peterson just one of those coaches who relies on arbitrary harshness to scare kids into obedience? This is, unfortunately, a well-known leadership style especially in high school, where tiny deviations from the norm are punished not just by kids but often by adults as well. If you've ever had to wear a school uniform, you know whereof I speak. Was the coach just hammering Sheppard down for being the nail that sticks up?
Whatever the case, the joke appears to be on Peterson and school administrators, who weren't willing to go to court to defend their enforcement of conformity. And Sheppard, for his part, sounds like an awesome kid. After hearing about his family members' battles with cancer, he says, "The more I hear about it, the more I want to help. If I could, I'd probably wear an all pink (uniform)."
Student Sues After Being Cut By Coach Over Pink Cleats [USA Today]
Prep Kicker Back On Football Team After Pink Cleats Flap [USA Today]
G/O Media may get a commission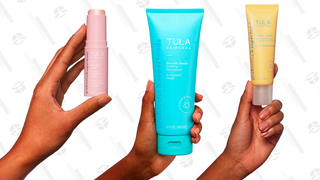 Image via USA Today