What's the most shocking thing about Hit Girl in the forthcoming Kick-Ass? Is it that she's a young girl committing violence? Or is it that word — cunt? Maybe it's just how easily the filmmakers have played us all.
Even though the film isn't called Hit Girl, Chloe Moretz's character has dominated all accounts, even director Matthew Vaughn's. Here he is in The Los Angeles Times:
"The temperature just rises and rises as soon as she comes up on the screen," Vaughn said. "I'm sitting there and in weird way I'm just counting the minutes until she shows up because I know when Hit Girl is on the screen we have the audience, we've got them. And people that see her know what she's accomplished. She wasn't sexualized, it wasn't gratuitous, it was fun and she comes off as a great, fully realized female heroine."
The producers of the movie are helped by the fact that Moretz is herself unfailingly self-possessed and mature, that she insists she would never say that word herself, and that this is all pretend. (Let's call it the Dakota Fanning paradigm.) She tells USA Today, for example, "People shouldn't get so upset. It's all pretend. I still like slumber parties and popcorn fights."
Of course, Moretz being a smart kid and seeming fresh-faced and well-adjusted, not to mention being white and blonde, actually helps make the film's case: It accentuates the uncomfortable contrast between her character's appearance (innocent girl) and her actions (potty-mouthed, violent.)
G/O Media may get a commission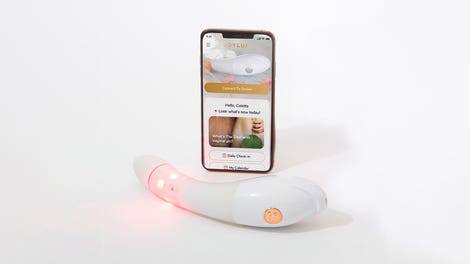 $50 Off
Joylux vFit Gold Device
Fair enough. But there is something rather unconvincing about Vaughn's line to The Daily Beast:
"It's more astonishing that people talk about [her saying "cunt"] than about a young girl who kills people...I was told that the difference between England and America is the sense that if I said to you, 'I want to fuck you tonight' in a sexual manner, you'd get an R," he continued. "But if I said, 'I want to fuck you up and blow your head off,' you'd get a PG-13. In England, it's the other way around… I associate with the European attitude. I think sex is far less disturbing than violence."
This is pretty disingenuous. Flashing the "Americans are so uptight about sex and I'm European" card may be technically accurate, but it's also irrelevant — Vaughn has repeatedly said that the film doesn't sexualize Chloe, and that this is actually about action and violence. So what does sex being more or less disturbing than violence have to do with it?
In fact, plenty of people who have seen the movie have objected to its violence. Here's David Edelstein of New York, quoted in The Daily Beast:
"The level of violence, the garishness of the violence, was even more shocking than what Chloë said," said Edelstein, who's the father of a 12-year-old girl. About one particularly brutal moment, Edelstein said, "I've never seen anything like that."

As far as the movie's language, "I was weaned on Mamet," he said. "And I hear kids, when I walk around the neighborhood, I hear little kids use some of those words. I think the genie's out of the bottle."
And Roger Ebert says "Shall I have feelings, or should I pretend to be cool? Will I seem hopelessly square if I find "Kick-Ass" morally reprehensible and will I appear to have missed the point?" For him, it's the image of a child committing violence without consequence or feeling that makes him "sad." He doesn't even mention "cunt."
But it's so fun to debate what it means! We've been at it for awhile. And it can be an interesting debate. But when the filmmakers protest so much and express such surprise at how uptight everyone is, you have to wonder at what a cynical ploy it all is.
Kick Ass Director: This Movie Has Broken Every Rule [LAT]
Kick Ass Review [Roger Ebert/Chicago Sun-Times]
Chloe Moretz, 13, Can Kick Your You-Know-What [USAT]
Edgy, Bloody, Potty-Mouthed: Ain't That A Kick-Ass Film [USAT]
A Movie Breaks The C-Word Taboo [Daily Beast]
Earlier: The politics of Kick Ass' Hit Girl
Badass Self-Described Feminist Drops The C Word On Today
Why Is The Word "Cunt" Still Such A Big Deal?