Khloe Kardashian spent a large chunk of her weekend drafting out one of the longest Instagram captions I've ever seen in order to share the news that she and her estranged husband Lamar Odom are officially donezo. The "announcement" follows a week of alarming speculation that Odom has begun drinking again.

Though she never calls him out by name...who else could this be about?
(Her caption was so long that even after reducing it to the essentials, it's long as hell.)
"Letting go doesn't mean that you don't care about someone anymore. It's just realizing that the only person you really have control over is yourself." Letting go with love takes great strength. We have to learn to stop taking on peoples problems as if they are our own. Loving people does not mean we have to carry their burdens and confusions on our back.

[...]
You can't love someone into loving you. (God I wish it were that easy) You can't force someone to be loyal, kind, understanding. You can't force someone to be the person you need them to be. Even if it's for their own good!!

[...]

Don't lose yourself by trying to fix what's meant to stay broken. God always has a plan even if we can't understand it (or don't want to understand it) Even in the darkest of places... Our Lord sees His vision.

[...]

Don't put your happiness on hold for someone (family, friend, partner) who isn't holding on to you. "A Girl once told me… Be careful when trying to fix a broken person. For you may cut yourself on their shattered pieces."
Looks like they're through.
The end.
Khloe was then spotted out with ex-boyfriend French Montana, with whom she has remained friendly.
G/O Media may get a commission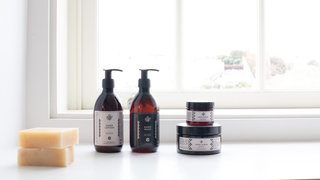 Exfoliate and Hydrate
The Handmade Soap Company
---
I feel like I usually stay up-to-date on high profile gay romances, but this one has apparently slipped through the cracks. Andy Cohen, the 47-year-old face of Bravo TV, is apparently shtupping a 28-year-old Harvard PhD student named Clifton Dassuncao.
Though neither Cohen nor Dassuncao has confirmed the relationship, they were spotted vacationing on Barry Diller and Diane von Furstenberg's yacht alongside Kelly Rippa and her family, so...I mean...
In an "exclusive" conversation with Radar Online, Dassuncao's father said the age difference "does not bother him," adding, "I'm surprised, but I would welcome [Andy]. I love my son."
---
You should probably follow Rob Kardashian on Snapchat.

---
---
Image via Getty.