Pop quiz! You're a non-black woman who's a part of a large (and very famous) multi-cultural family wherein many of your siblings date or are married to black men. Do you: A.) do your best to listen and educate yourself about your non-white loved ones' cultural history? Or B.) Post a Ku Klux Klan joke to your 14.5 million followers on Instagram? (Answer if you're Khloe Kardashian: SOLID B, BABY.)
Khloe has found herself in hot water after posting the meme on the photo-sharing site, along with the caption "True." The post, which was also shared by her brother-in-law Scott Disick, began getting negative feedback immediately and eventually caught the attention of Ebony Senior Digital Editor Jamilah Lemieux.
Lemieux tweeted:
G/O Media may get a commission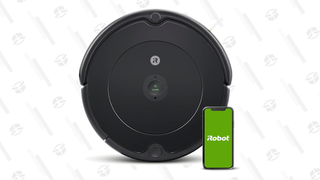 35% Off Black Friday Deal
iRobot Roomba 694 Robot Vacuum
Khloe Kardashian has taken down the post and replaced it with a new meme that says "We're all equally fucked up. Some only hide it better." Great. She's switched from a tired-as-fuck meme that was probably made by idiot 17-year-old boy who's never taken a social justice class to a tired-as-fuck meme made by a 19-year-old girl who is just, like, feeling too many things right now. Progress.
[Radar]
---
Charlie Hunnam says that playing Christian in Fifty Shades of Grey would have been a "fucking disaster."
"I was going to finish playing a psychopath who'd just lost his wife [in Sons], and five days later I'd be on set playing Christian Grey," he told Men's Health. "...I was like, 'This is going to be a f—-ing disaster.' It was the opposite of how I've tried to ground my career, not stretch myself too thin, and always do my homework."
When it comes to this movie, Hunnam has totally become the dude who breaks up with you before the first date and never stops telling you why. [Us Weekly]
---
Jennifer Lawrence will never join Twitter and we have no one to blame but ourselves. As she told BBC1: "I will never get Twitter. I'm not very good on phone or technology. I cannot really keep up with emails so the idea of Twitter is so unthinkable to me... It's because the internet has scorned me so much." [MTV]
---
Photos via Instagram/Getty.