This scandal feels like it's been going on for weeks, but in actuality it began some 24 hours ago, when comedian and actor Kevin Hart revealed he was the victim of an extortion attempt. In a video published by TMZ, Hart attempts to get ahead of the controversy by saying:

"I'm not gonna allow a person to have financial gain off of my mistakes, and in this particular situation that's what was attempted. And I said I'd rather fess up to my mistakes."
While he refused to get more specific than "mistakes," the video being used by the extortionist reportedly shows Hart and a woman who is not his wife "in a sexually provocative situation" before cutting to "a bedroom where there appears to be sexual activity on a bed, although you don't see who is in the bed." Since then, more videos have been released, including one accusing Hart of planning the "Texas Hurricane Relief Fund" for the sole purpose of polishing up his image due to imminent scandal.
But the latest piece of footage dropped by the A/V-wizard (who appears to have an open line of communication with TMZ) is just a freeze-frame of Hart and the unknown woman (in the aforementioned "sexually provocative situation") over which months-old audio of Hart being interviewed on the radio is played.
In the audio, Hart addresses his history of cheating but claims he's done with all that, saying:
"You can always try to find something that's better—a bigger ass or some breasts—but that never ends. So when you do find something that stimulates you on a mental and physical and emotional level, at this age what else do I need? She understands. When I say I've got a good one, I've got a good one. A logical, thinking woman. Do you understand how hard that is? To get a woman that can think on a logistic, like, term?
G/O Media may get a commission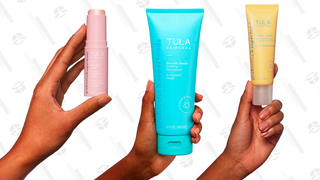 He then explains why cheating is simply no longer for him:
"I wouldn't be a good cheater right now because I don't feel like I can trust you to cheat. So you wouldn't want to cheat with me because I would be questioning you...it's too much, there is no sanity that comes with it, so why risk it? What am I gonna throw it all away for?"
The extortionist is demanding an "8-figure" sum, the FBI is on the case, and Twitter is having a field day.
[TMZ]
---
Ben Affleck was Lindsay Shookus's plus-one last night, which is satisfying.

[Page Six]
---
Drake got a tattoo of Denzel Washington, and it looks great.

[ONTD]
---