Being forced to work under the producer/label boss she accused of abusing her sexually and emotionally has had dire consequences on Kesha's creative output, according to a new countersuit filed by Kesha's lawyers. Last year, Kesha's request for a release from Dr. Luke's Kemosabe Records was repeatedly denied by judges.

Via The Hollywood Reporter, Kesha's new countersuit opens:
You can get a divorce from an abusive spouse. You can dissolve a partnership if the relationship becomes irreconcilable. The same opportunity — to be liberated from the physical, emotional, and financial bondage of a destructive relationship — should be available to a recording artist. After a February 19, 2016 preliminary injunction hearing, Kesha Rose Sebert is, for the time being, no longer forced to record in the same room with Lukasz 'Dr. Luke' Gottwald, the abusive music producer who has had her under contract for the past eleven years. But allowing Kesha to make music outside Dr. Luke's presence does not free her from her abuser's control.
The suit alleges:
Despite Kesha having recorded material for a potential upcoming album, "not one song has been approved, no release date has been set, and there has been no agreement on the critical issue of whether the album will be promoted commensurate with an artist of Kesha's stature and historical success."
Dr. Luke owes Kesha royalties she has yet to be paid. She just received the money she was owed for her 2013 Pitbull collaboration "Timber" (which sold a reported 12.6 million units worldwide in 2014) last month, after she threatened legal action.
The tens of millions of dollars Dr. Luke seeks from Kesha and her mother in punitive damages would leave Kesha "penniless."
G/O Media may get a commission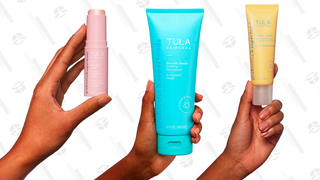 Additionally, the lawsuit reads that her interest is not in money, but "something far more basic: the freedom to make music without being bound indefinitely to the very producer who subjected her to years of abuse and continues that abuse to this day."
It also claims that when Dr. Luke's Sony contract expires in March, Kesha's situation could get worse without the record label acting as a middleman: "Without the Court's intervention and Sony's facilitation, Kesha will remain contractually bound to Dr. Luke until she releases three additional albums, each containing six songs produced individually by Dr. Luke, no matter how many years that takes."
Dr. Luke has filed his own counter-claim. Reports THR:
...He is still alleging that Kesha and her mother, Pebe, have engaged in a "smear campaign," and that the "Tick Tock" artist won't fulfill her obligations under contracts, but he's now adding that since the preliminary injunction motion, Kesha's team has "embarked on a conscious and coordinated effort to 'blacklist'" him from the music industry.

Dr. Luke's amended complaint alleges that Kesha and her reps are spreading defamatory statements in the media, encouraging the creation of "bogus Internet petitions" to pressure Sony, and falsely asserting that he raped another recording artist to another huge name in the industry.
The new complaint also alleges Kesha lied about Dr. Luke raping her and another unnamed recording artist in a text message sent to Lady Gaga in February 2016.
THR says Kesha and Dr. Luke are scheduled to be interviewed under oath in depositions in the coming week.
Update: Jezebel received this statement from a lawyer for Dr. Luke, Christine Lepera:
Dr. Luke seeks to add an additional defamation claim against Kesha based upon the discovery of another false and defamatory statement she made about him that was part of her calculated effort to harm his reputation and business.
Kesha's new proposed counterclaim simply repeats the meritless and untrue allegations that were set forth in her earlier pleadings and which Dr. Luke fully disputes.