It'$ the end of an era! Following 60 days of treatment for disordered eating, Ke$ha has decided to reinvent herself by dropping the trademark dollar sign from her name. She shall hereby be known simply as Kesha! Congrats on this new phase of your life, lady!
Sources connected to the singer tell TMZ ... she wants a fresh start after her 60 days in rehab for an eating disorder, and the moniker she uses in her name reminds her of her "old self."

So from now on, it's simply Kesha.

We're told she's spending a lot of time with a therapist who will continue what she calls a work in progress.

Kesha is also following the advice she got in rehab — get rid of the negative people in her life who contributed to the problems in her life that led to the eating disorder.
You do you, new Kesha. [TMZ]
---
This video of Tavi goofing around with Peter Krause is giving me JEALOUSY-HIVES!
---
G/O Media may get a commission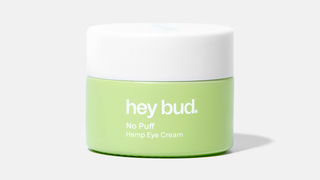 15% off
Hey Bud - No Puff Hemp Eye Cream
Juan Pablo is apparently the "worst Bachelor ever" and producers cannot wait for the season to be over so they can get the fuck rid of him.
"Everyone on the show is just so over him and cannot wait for this season to be over," a source connected with the dating competition series told us.

"His anti-gay comment happened the weekend of Sean Lowe and Catherine Giudici's wedding which completely overshadowed all the hard work everyone put in for it and practically ruined Sean and Catherine's special weekend."

The insider added that producers and crew members have never been so ready for a season of the Bachelor to end.

"It has not been anyone's favorite, that's for sure."

...We're told by multiple sources that there's been "lots of fighting" going on between Juan Pablo and the winner of show.

"Producers are hopeful that they'll work it out by the live finale, but no one is holding their breath," one source revealed.

"If they are together at the finale, it's probably just an act."
What would be funny is if at the end the "winner" is like "Juan Pablo will you accept this rose," and then it's just a picture of a dog's red butthole. [E!]
---
It is now time for all of us to weigh in on Jake Gyllenhaal's beard. [People]
Kate Middleton and Prince William went to a luxurious secret island and had a monkey-butler prolly. [E!]
Andrew Garfield and Laura Dern are "developing mother-son chemistry," which is somehow gross. [JustJared]
Brandi Glanville called Lisa Vanderpump a "shitty friend" and then Lisa Vanderpump hurp blurp blurp blurhsdkljfh bsldjhfoseuhf blaskdhflaskdhfalsdjfalskdhjfasldjfffffff. [Radar]
Bill Clinton got coffee in Amsterdam, but he DIDN'T INHALE. BECAUSE DELIBERATELY INHALING HOT LIQUIDS IS FUCKING DANGEROUS WHAT IS WRONG WITH YOU NOBODY DOES THAT. [TMZ]
Scarlett Johansson's pregnancy was a "welcome surprise." [Us]
The cast of That '70s Show is super proud of Wilmer Valderrama for getting to work with Robert Rodriguez. [People]
Jenna Fischer turned 40 today and posted a pic of her baby bump. [E!]
Joel Kinnaman hot. [JustJared]
Judge this romper. [E!]
can this baby follow me around and validate me plz

Images via Getty.