Kentucky, which until recently had the last Democrat-controlled legislative chamber in the south, is taking a giant leap towards Making America Great Again by kneecapping the state's middle class and undermining a woman's constitutional right to abortion.

"I love them all," Gov. Matt Bevin said of the fast-tracked bills, which weaken labor unions by limiting their ability to collect dues (HB1 and SB6), lower construction workers' wages on publicly financed projects by repealing the prevailing wage (HB3), ban abortion after 20 weeks with no exceptions for rape or incest (SB5), and require doctors to conduct and narrate an ultrasound on women seeking abortions at least 24 hours prior (HB2). The ACLU has filed a lawsuit against the state on behalf of EMW Women's Surgical Center, the only abortion clinic left in the state, claiming HB2 "violates basic principles of medical ethics and of informed consent by compelling doctors to dismiss patient's objections."
Bevin has already signed the right-to-work legislation, and is expected to sign the rest on Monday.
Kentucky, the Lexington Herald-Leader notes, will become the 27th "right-to-work" state in a country whose "populist" uprising hasn't done much to keep corporations off the backs of workers. Bevin, who has never held political office before, has also reduced the minimum wage for state employees and abolished the Governor's Employee Advisory Council, which helps represent state employees in wage discussions. Union workers loudly protested the labor legislation on Saturday, which Senate Minority Leader Ray Jones called "nothing more than a giveaway to corporate America."
The anti-abortion legislation follows similar trend lines, with a 20-week ban recently passed in Ohio and similar restrictions in nearly 20 other states. 19 states passed 60 new abortion restrictions in 2016 alone, The Intercept reported last month. When conservatives take power, making peoples' lives demonstrably worse generally seems to be the number one priority.
G/O Media may get a commission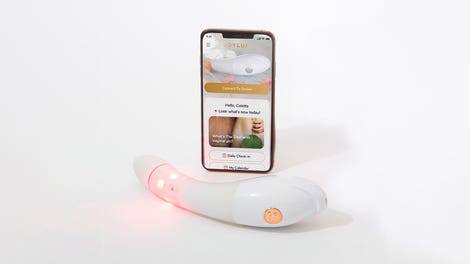 $50 Off
Joylux vFit Gold Device
"It is demeaning to women, it is patronizing to families, to think that we need 138 people (in the legislature) — very few of whom have any medical knowledge — to legislate what will happen to them," Rep. Mary Lou Marzian (D) said; another female legislator, Rep. Joni Jenkins (D), noted that abortions after 20 weeks are quite rare and people generally don't get them for kicks, but rather in response to health issues with the mother or fetus. (According to this legislation, women can still get an abortion after 20 weeks if they face a "serious risk" to their health.) Rep. Ann Palumbo (D) criticized the bill for not including exceptions for women with mental health issues.
On the other side of the aisle, we have Rep. John Blanton, R-Salyersville, who opted to share a bit of personal history. "My great-grandmother, at the age of 14, was subject to rape, and she had my grandmother," he drawled. "And here I am."
"If my grandmother had had an abortion, I wouldn't be here today," Blanton added.
In a year of idiotic commentary from men in positions of power they don't deserve, that might be the most crazed argument I've heard yet.