Here's the Kardashian/Jenner/West clan, looking very Partridge Family and flowy and also like they don't give a fuck that they're totally underdressed for church.
Allow me to clarify, though: I don't just mean in formality—though, that's definitely a theme here, too (see: Kanye's ripped T-shirt; Kylie's jeggings)—as much as I do an apparent lack of clothes that completely cover one's body parts (see: Kendall's torso). I mean, who knows? Maybe there's a clause in their contract with E! that says they can have their own religion, where wearing bra tops to holy celebrations is encouraged. Maybe it was laundry day. Or maybe I've turned into a granny who's used to wearing layers and layers of dumpy wool things thanks to one of the shittiest East Coast winters on record.
---
Pharrell Williams is 41 today, which means I've been a fan girl for approximately 18 years. Dang.
Before he was the guy who cried on Oprah/the rainmaker behind Blurred Lines/the spokesperson who's trying to make happiness a *thing*, he was (is?) a smooth, panty-dropping operator who did this thing with his neck that makes me melt into a puddle of woman. That's the Skateboard P I know and love. [MTV]
---
G/O Media may get a commission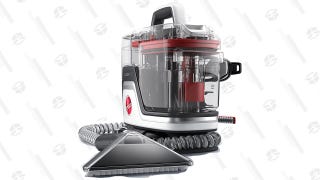 Save $10
Hoover CleanSlate Plus Carpet & Upholstery Cleaner
Taylor Swift is the new Oprah, says tastemaker Taylor Swift, who cites her influence on up-and-coming country singer Kelsea Ballerini's budding popularity as proof that Swift's opinions are the kind that people pay attention to and ultimately, pay. I'll believe it once she starts giving out cars and becomes a self-made billionaire. [TMZ]
---
•The people have spoken (with their wallets): Furious 7 had the fourth highest-grossing film opening of all time. Damn. [Yahoo!]
•The film was also Paul Walker's last, and the actor is still very sadly missed. [Hollywood Life]
•Easter FOMO is a thing, as evidenced by this Daily Mail post with a smattering of A-/B-list celebs and their families, doing the egg/chocolate bunny/fancy dress thing. [Daily Mail]
•Gwyneth Paltrow is doing that thing when you go on vacation with your ex—you know, "for the kids"—and roll up looking fly in a small black bikini, all cool and consciously uncoupled. [Radar]
•Mariah Carey and Nick Cannon kind of did the same thing, except they were dressed in clothes, at the Bronx Zoo, hunting for Easter eggs. [Us Weekly]
•Chris Brown says he'll commit to Karrueche, once she accepts the secret kid he had with another woman behind her back. LOL. [Hollywood Life]
•Robin Thicke sold his house—originally purchased by his dad, Alan Thicke, in 1990—in the Hollywood Hills, for a cool $5 million. [LA Times]
•Here's The Fat Jewish looking sexy as fuck. [TMZ]
Images via AP