Kendall Jenner lashed out at a tabloid after a suspected stalker was arrested on Tuesday for allegedly trespassing on her property. The suspect, John Ford, reportedly had a restraining order and was released Tuesday night after his bail was set at $20,000.

On Wednesday, TMZ released a description of Jenner's California Residence and posted photographs of it in an article about her. Then on Thursday Ford was arrested again, reportedly for trespassing and violating a restraining order. TMZ reports that Ford was not at Jenner's home when he was re-arrested.
Jenner criticized TMZ on Twitter later on Thursday, writing:
"And how do you guys think these terrifying people know where my house is? cuz you release not only photos but my location. it is so beyond unsafe. is this not our one ounce of privacy we can get???…i understand what i've signed up for but when you release the exact location to where i live THAT is when you're putting my life in danger. your home is your safe haven, but for me, cuz of outlets like you, my home is anything BUT. you should be ashamed of yourself."
G/O Media may get a commission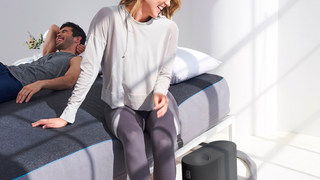 Eight Sleep Pod Cover
[E! News]
---
Jersey Shore's Jenni "JWoww" Farley filed for divorce from Roger Mathews nearly a month ago but now they are out celebrating their third anniversary I guess. Or at least he is?
And may I just say that dress has wonderful texture.
---
Somewhere out there it's "beach day" can you believe? [People]
Rosie Huntington-Whiteley says getting married to Jason Statham is not a priority. Honestly, same. [Extra]
John Stamos is so icky! [Page Six]
What the hell Judi Dench is also going to be in this Cats movie. [Deadline]