Kellyanne Conway, counselor to Donald Trump, sunk to new depths (which didn't seem possible but clearly was) on Thursday during a segment on Fox & Friends. While there, she claim that Democrats are to blame them for the two children who recently died while in Border Patrol custody.
From Politico:
"They are now turning a blind eye to the humanitarian crisis, which includes children, tender age children under the age of five in need of medical care taking a perilous journey. Some of them are already ill. Some of them haven't seen a doctor in a while," she said without providing evidence to back up her claims.

"Two have died because of this. And they are turning a blind eye to that. And I think you can't call it anything but raw politics because all we are trying to do is get together and say, look, we have had some great bipartisan action," she argued.

Conway also said that if Nancy Pelosi "really cared about those kids" she would have listened to the "facts and figures" presented by the heads of Homeland Security, Customs and Border Patrol, and Immigration and Customs Enforcement—the very departments that were in charge of the children when they died, and are responsible overall for making the border crossing as dangerous as possible.
Democrats and Republicans have, in recent decades, both played a hand in creating a dangerous situation for people crossing the border, but Conway using the deaths of two children on this administration's watch as a quippy Fox News talking point is new kind of obscene.
G/O Media may get a commission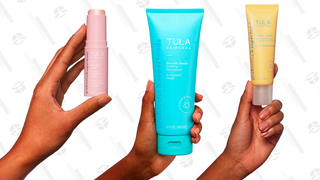 Clearly, Conway is happy to keep up this grotesque spin with a smile on her face.