Kelly Clarkson is having a rough first trimester. She told Ellen Degeneres that she vomits "a good dozen times a day." She just vomits and vomits like a firehose. She's probably vomiting right now. Kelly Clarkson is tired of vomiting. WHY WON'T VOMITING LEAVE KELLY CLARKSON ALONE.
"I vomit a good dozen times a day its like bad. I vomited before coming out here," Clarkson shared. "I'm not even kidding, it's so bad. It's so bad. It's, like, so gross. And that's the thing too, you're not attractive when you're pregnant. Everybody tells you [that] you glow and your hair is pretty and your nails are pretty. That is total crap. My nails are short, my hair still falls out — it's not all lush and beautiful — and I have no glow. Unless it's, like, something left over from a bad throw up. It's horrible."

..."It's miserable," Clarkson added of being sick. "But I'm so happy I'm pregnant. I just wish he or she would stop trying to kill me." The first-time mom-to-be doesn't know the gender of her baby yet, but said it doesn't matter "because the name we picked is if it's a boy or a girl it's the same name."
Ugh, get well soon, Kelly Clarkson. And to the Clarkson fetus, KNOCK IT OFF. [Us]
---
Jen Arnold, star of TLC's The Little Couple, has been diagnosed with cancer.
"I have recently been diagnosed with a rare type of cancer and am currently undergoing treatment, including surgery and chemotherapy," she said in a statement, which was first reported by People. "I am very fortunate as the prognosis is very good." She did not specify what kind of cancer she has.
So sorry to hear that! Get well soon, Jen Arnold! [GMA]
---
G/O Media may get a commission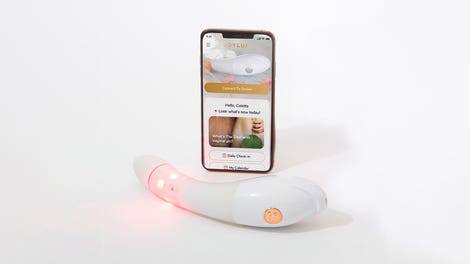 $50 Off
Joylux vFit Gold Device
Candace Swanepoel says that models have to be smart to be successful.
"There are so many beautiful girls around that you need more," said Swanepoel on HuffPost Live. You can't just rely on your looks to make it — "It's really about being smart now and turning it into a business."

...That said, Swanepoel lamented, models still do get stereotyped for being dumb. "We grow a thick skin, so it's OK," she laughed.
Figuratively. [HuffPo]
---
Brett Ratner is going to direct Beverly Hills Cop 4. Alternate idea: an actual barrette shaped like a rat. [Vulture]
Jessica Biel says she "definitely" wants to make babies with Justin Timberlake. [People]
Evangeline Lilly would like you to please remember that she is a human being and not just a display case for an awesome butt. [TheMarySue]
Sleepy Hollow will get a two-hour season finale. [EW]
The cast of Modern Family went to a party. [JustJared]
"Sofia Vergara Looks Like a Teen Gone Wild in Lace Short Shorts!" Like a feral teen? Like Mowgli? Is that what you're saying? CAN SOMEBODY PLEASE TRANSLATE E! FOR ME BECAUSE IT'S COMING OUT GARBLED. [E!]
Kate Middleton and that baby went for a walk. [E!]
Continuing to love Pam's hair. [E!]
Whoa! Lindsay Lohan looks so much like younger Lindsay Lohan! [E!]
Robert Pattinson hung out with Sienna Miller and Tom Sturridge in London. [Us]
LATER.

Photos via Getty.