New Hampshire Senator Kelly Ayotte has long touted herself as a moderate. From gun control to budget issues, immigration, and even her refusal to endorse America's loudest butternut squash Donald Trump, Ayotte has always cast herself as an old-school Republican, more comfortable with the country clubs of George H. W. Bush than among the Senate's Tea Party ranks. But Ayotte's moderatism is more performance than reality and nothing evinces that better than her reelection bid.

Ayotte is currently running for re-election against Governor Maggie Hassan and the freshman senator has long been considered "vulnerable." Ayotte, stuck in the political no-man's land where saying anything or committing to any position is a liability, has refused to endorse Trump, but she won't reject him entirely. She did not attend the Republican National Convention, and has insisted time and time again that there's a significant difference between supporting the party's nominee and supporting Trump. It's a dumb and difficult line to draw, one that leads to moments like the one she had last night while debating Hassan.
When asked if Trump was a role model for children, Ayotte responded "absolutely," and then immediately fumbled around for a way to distance herself from Trump. Here's the video, if you look closely, you can see the particular look of soulless fear strike Ayotte's eyes:
In a statement released shortly after the debate, Ayotte retracted her comment. "I misspoke tonight," she said. "While I would hope all of our children would aspire to be president, neither Donald Trump nor Hillary Clinton have set a good example and I wouldn't hold up either of them as role models for my kids."
In the time left over after deciding whether or not Trump is a role model for children, Ayotte has been busying positioning herself as a champion of women. The Associated Press reports that Ayotte has taken a page from Planned Parenthood's book, and is handing out free condoms on New Hampshire college campuses. The condoms are meant to highlight a bill that she sponsored which would make birth control available without a prescription. The AP reports:
The campaign recently distributed signs to students promoting her campaign that say ''FREE CONDOMS'' in bold letters. The signs, which are being set up next to tables where potential voters can pick up information about the candidate, explain that the condoms are part of Ayotte's efforts to make birth control available over-the-counter. They also urge takers to ''Use Condom Sense!''
G/O Media may get a commission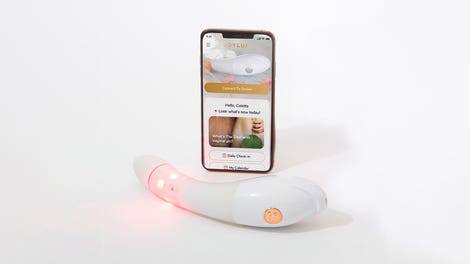 $50 Off
Joylux vFit Gold Device
A campaign spokesperson for Ayotte said that the goal was to remind people that the Senator is a "leader on women's health." On the surface, it seems like a great idea—who doesn't want birth control without a prescription? Well, Planned Parenthood and the American Congress of Obstetricians and Gynecologists both opposed Ayotte's bill. The bill, both groups argued, is a thinly-veiled attempted to gut Obamacare's requirement that insurance cover the costs of birth control.
Without a prescription, the co-pay requirement would be effectively eliminated and women would be left to cover the full costs of birth control on their own. In a statement, Cecile Richards called Ayotte's bill "a half-baked proposal" and took Ayotte to task for her multiple votes in favor of defunding Planned Parenthood. Ayotte's approach to birth control was recently picked up by Trump who, in September, announced that he was also in favor of prescription-less birth control.
For all of her talk of moderatism (as well as the media's willingness to repeat that phrase), Ayotte seems like more of a candidate in search of a solid talking point, willing to grab on to catchy phrases like "pro-woman," and lost in the mire of endorsing a nominee without endorsing the person nominated.