Jezebel Quickies is a new video series in which we get to know our favorite musicians, artists, actors and other creatives in a snap amount of time.
When I first got hold of Kelis' cookbook, My Life on a Plate: Recipes From Around the World, a mixture of giddiness and terror washed over me. Cooking is—as previously stated—not my forte. You could even call it a foreboding task, one that's stupidly worse in my head than in real life. But even as a proud, Seamless-addicted amateur chef, I still love hoarding cookbooks, just to pore over pretty pictures of meals I'll never make.
Kelis' cookbook has recipes that reflect her diverse background and travels, from Puerto Rican to Jamaican cuisine. Of course, there are familiar dishes like Corn Chowder and Apple Pie. But there are also unusual, seemingly daunting meals like Shrimp Alcapurrias and Chorizo Date Stuffing. At first, I thought about trying to cook these meals with her as part of an interview, which would've been an incredible mess but also expected—which Kelis is anything but. She's a living counterpoint. For years before this foodie career kicked in, and still now, she's had a cool lane as the anti-cliché foremother of quirk whose fans cape for her whenever needed (my favorite album of hers is still the whirlwind Tasty. See: "Protect My Heart").
Before I knew it, Kelis was in our building on a fall Monday, wearing a flatteringly baggy black top and bright red hair combed to one side. Waiting by the elevator after our interview, she gave me encouraging tips on how to be a more consistent chef. I'm sure I sounded like a whiny, lazy New Yorker talking about how I never cook. To me, her eyes (which seemed genuinely concerned that I was a doofus in the kitchen) were saying, "Girl, get over it." She suggested that I stock up on the ingredients in the beginning of the book and have them at the ready. She also suggested I try buying ingredients on Amazon. Kelis—whose culinary career was sparked by a commercial for the Le Cordon Bleu school—wants this process to feel not at all intimidating to a fool like me.
In the cookbook, Kelis talks about finding comfort in food through her mom, who owned a catering business. She also writes about what she considered while selecting recipes: "These recipes reflect a life lived casually and abundantly. They are made for home cooks, like me, people who are juggling a career, kids, friends, family, and everything else in life, but who still want to put a delicious meal on the table, to make their kids' after-school snacks, and to have dinner parties where everything they serve is made from scratch. Although I like the idea of going to the market and buying just for that meal, I don't have time for that in my day-to-day life."
G/O Media may get a commission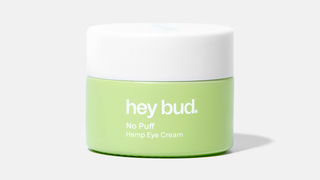 15% off
Hey Bud - No Puff Hemp Eye Cream
In the video above, we talk about her line of sauces, the sucky raw cleanse she tried once and why all those cooking fears are all in your head. I also asked whether she's working on music and mentioned her last album, 2014's Food, which felt more sonically settled than her previous work yet still outside-the-box. "I make music for myself. I really don't care what people think about it. And I don't mean that in some cool rebel way. It's not for you," she says. "Food is something totally different. I cook for you. I cook for people. It's a love thing."
---
Contact the author at clover@jezebel.com.