On Sunday night's episode of Keeping Up With the Kardashians, our A-Plot was Kris Jenner's birthday party planning; the B-Plot was Kim's birthday party; and our C-Plot was Lamar Odom's overdose. The episode was somber but fun, and of course featured some substantial inconsistencies. #LEGGO
Scene 1/Cold Open: Filmed on October 1, 2015
Tucked away in a rarely seen corner of Khloe Kardashian's home, she lounges with Kim and Kylie to discuss the guest list for Kris Jenner's 60th birthday party. Kim, unseen, spits out "Cait cannot come to mom's birthday." Khloe corrects her sister, saying that it's not that Cait "can't" come as if she weren't invited, but Cait physically cannot come because she will be in New York. The sisters move past this, and after Kim calls Khloe "Khloe Blowie," Khloe claims to never have had the nickname in high school, despite Rob telling their father otherwise. She also tells her sisters that being fat and then being married "saved" her from being a whore. Probably opening up too much for Kim's liking, Khloe praises Lamar for liking her at her worst. Kim, fed up, asks "so that's what his hold on you has been this whole time?" No, Kim, his "hold" on her is a little something called love and compassion. In any case, this scene was filmed on October 1, 2015.
G/O Media may get a commission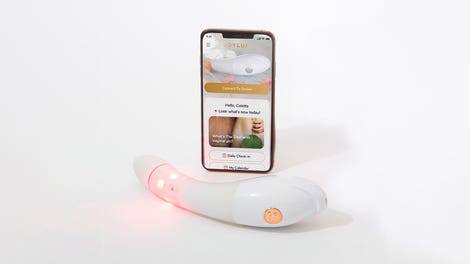 $50 Off
Joylux vFit Gold Device
Scene 2: Filmed on October 1, 2015
Kim is at Khloe's house, and the two eat cute salads and talk birthdays. Between October and November Kim, Kendall, Kris, and Caitlyn all have birthdays that demand celebrations. Kim tells Khloe that she doesn't want a big to-do for hers; she's overwhelmed with work and the soon-to-be new baby, so she wants to keep it lowkey. Plus, one of the the biggest things stressing her out right now are the veins on her growing boobs, and those are obviously not fit for a birthday celebration. Like Scene 1, this scene was filmed on October 1, 2015.
Kris Jenner tags along with her male companion, Corey Gamble, to West Coast Customs, a car shop. Corey's friend owns the place and he has a surprise for Kris. Corey also invited Khloe for the journey, because he wanted a witness to the surprise he had for Kris. He enlisted his friend to makes Kris' old white Range Rover all matte black with heavily tinted windows. Kris doesn't know how to react to the surprise and even asks Corey's friend where the showroom is. Khloe tries to help her mom say "thank you" to Corey, and she eventually gets there. It's hard to tell if Kris actually has trouble accepting extravagant gifts from people who love her, or if she was thinking about how much she would have preferred a new tricked out Range Rover as opposed to her old one. The world may never know. This scene was filmed on August 12, 2015.
Kim and Kourtney visit Khloe at her house to discuss the details of Kris' 60th birthday party. Before they get into that, Kourtney tells Kim a sweet story about taking North and Penelope to ballet that morning. Kourtney tells Kim that her daughter seems to be really into repeating things that she hears now, because she was calling Kourtney "mom"—just like Penelope does. When Penelope got upset, Kourtney told P, "she's just pretending," to which North copied, "I'm just pretending." Those of us sequestered in our #KUWTKE headquarters are desperate for every detail on North West's mental, emotional, and cognitive development, but Kim remains unfazed. Back to party planning, the three sisters are anxious, because they don't have a whole lot planned and it's coming up real soon. Most importantly, they want to lock down a major WOW! moment for the event. Kourtney thinks it would be a great idea to screen Kris' iconic "I Love My Friends," video, and Khloe thinks that they should re-make it. The sisters decide to re-make the video! To solidify the plan, they facetime Kendall who is in Paris. Kendall is obviously lit AF, but is down with the plan. This scene was filmed on September 30, 2015.
Lamar:
In the middle of Sunday night's episode, Lamar's overdose was dramatically revealed. After reports of his condition played over images of ambulances and emergency lights, a title card detailed how production on KUWTK was halted out of respect for the family and situation. Another card followed, informing viewers that the family resumed filming two weeks later. Despite that timeline being 100% inaccurate, every scene below is post-Lamar overdose.
Even in the midst of this family crisis, Kanye still had his focus on Kim Kardashian West. Earlier in the episode, Kim was adamant that she didn't want to go all out for her birthday, but Kanye had other plans. For her 35th birthday, he threw her a Pregnant Birthday Party at a movie theater in LA. Kanye rented out the whole place, had everyone dress in their best Kim K get up, and to help Kim feel more comfortable about her growing body, he had everyone put a baby bump on! The family seems to be having a good time figuring out where to place their bumps, be Khloe is noticeably absent. Kris tells party goers about Lamar's condition, and that the fact that he's a alive is a miracle. This whole conversation is extremely sad. Despite the graphic that appeared earlier, this scene was filmed on October 21, 2015, only one week after Lamar's overdose and the day after he was transported from Las Vegas to Los Angeles.
Scene 13: Filmed on October 21, 2015
Kanye arrives with Kim, who is surprised and excited to see her loved ones. Kim immediately peeps Kanye's theme and then makes her way to the churros, which she eats like they're made of fragile gold. Kim's friends and family have a generally good time, with Kris and Caitlyn posing like they're expecting and Kylie telling her family that all of her psychics have said that she'll have two kids. She wants to have both well before she turns 30 because she thinks that "30 is too old for children."
During the party, Kris takes a call from the Kardashian family attorney. Lamar is being charged with possession of narcotics and was served a search warrant in the middle of a dialysis treatment. Kris is super preoccupied with Lamar's medical condition and his imminent legal battle, but Corey still wants her to take some time to sip water and eat popcorn. Kris doesn't have time to stop her business for Corey's concerns, but does have time to tell Caitlyn that the heels she's wearing will exacerbate her existing knee problems. Kris suggests Caitlyn keep a pair of Uggs in her car like every other fancy lady.
Soon after their talk, Kris, Corey, and Caitlyn head into an actual movie theatre with the rest of the guests to watch Kim blow out her birthday candles. Kim hopes for swift skinniness post baby and tells the wish giver and her guests that she'll take a terrible labor and delivery in exchange for a cute baby. Like Scene 12, this scene was filmed on October 21, 2015.
Kim visits Kourtney and the two buckle down to re-write Kris Jenner's infamous "I Love My Friends" song. Now, Kim nor Kourtney are musicians or writers, so they basically draw a blank as soon as they start to write. But they have to get it done because they're headed to record in the studio the following day! Because of Kourtney's glam, it's clear that Kim and Kourtney's writing session was filmed on October 29, 2015.
Kourtney, Kim, Kendall and Kylie gather at their local recording studio to lay down vocals on their mom's revamped track. Sadly, Khloe is still with Lamar so she couldn't make it. However, it's unclear if the sisters even extended an invitation for the recording session since they didn't want to preoccupy her with things that didn't concern Lamar. After the four sisters record, they listen to the track, which apparently sounds terrible. But the viewing audience wouldn't know that because the track hasn't been cleared for TV, and whenever the music plays it's masked by generic musical sounds. Once Kendall and Kylie leave the studio, Kim and Kourtney decide to re-record the track because Kendall and Kylie's deep voices didn't quite mesh with their higher pitched ones. The Kardashian-Jenner girls' musical dreams came true when this was filmed on October 30, 3015.
That's all for tonight, friends. Thanks for checking in on this space and make sure to come see about me next time for another KUWThe Party Planners re-cap on #KUWTKE! #OJDidIt
---
Mariah Smith is writer and comedic performer who keeps up with the Kardashians. For more Keeping Up With The Kontinuity Errors click here. You can follow her on Twitter @mRiah.

Images via E!