Hello, Dolls! Sunday was the season 11 finale of Keeping Up With the Kardashians! Let us rejoice and be glad in Him and Kris that we made it this far. Thank you for your service and standing with me during these trying weeks of recounting, deciphering and bringing to light the lies cast upon us by our favorite family. Like weeks prior, this episode KUWTK gleefully disregarded the constraints of modern American time, to create their own timeline of events and truth, so let's dive in.

On Sunday night's finale, our A-Plot was Kim Kardashian's homelessness; our B-Plot was Khloe Kardashian moving forward post crisis; our C-Plot was Kim's impending labor; and our D-Plot was Kylie's annoyance with Kendall and Scott's return home from rehab, one of which was slightly less boring than the other. #LEGGO
Kimberly Kardashian West, Kourtney Kardashian, and work in progress Jonathan Cheban entertain themselves at Kris Jenner's house. The trio play with Amazon's Echo device and ask the rogue voice, Alexa, a variety of questions. They first ask who Kourtney Kardashian is, then what to do when a water breaks and how far Cedars Sinai Hospital is from their current location. Shockingly, the hospital in which Kim intends to deliver her baby is over 60 miles away. So, in a very scripted and spontaneous moment, Jonathan decides that they need to do a test run and see how quickly they can rush to the hospital should Kim go into labor. This group of fun loving yet level headed adults pile into Jonathan's car, and hit the road. This fun labor lazzi was filmed on November 9, 2015.
G/O Media may get a commission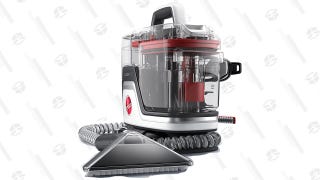 Save $10
Hoover CleanSlate Plus Carpet & Upholstery Cleaner
Kourtney and Khloe get glam at Khloe's house. While they get primped and powdered they rehash the events of Kris Jenner's birthday party. Khloe is shocked, yet proud, that she was on one that night, hitting dicks and grabbing boobs. Despite the fun she had, Khloe's currently stressed out about the Today Show interview she's doing in her home that day. Khloe can't even remember if she pre-interviewed or not, but knows she'll be asked serious questions about Lamar and she's already over it. Thanks to Khloe looking at Kourtney's Instagram on her phone, we know that this scene was filmed on November 12, 2015.
Scene 3: Filmed on November 12, 2015
Khloe is all glammed up and being interviewed by the Today Show's Natalie Morales. As she expected, Khloe is asked about Lamar's condition and the toll it's taken on her over the past few weeks. Khloe also reveals that this is the most emotionally stressful time of her life and to get through it she speaks to her late father, Robert Kardashian, a lot. Like Scene 2 this scene was filmed on November 12, 2015.
Kim visits Kourtney at Kourtney's house. It seems that Kim came over just to change settings for her complaining session. She tells Kourtney that she's been cussing people out all day due to the delays on her home. Apparently it won't be ready until March or July 2016. The biggest hold up is the lighting installation which needs to be resolved before any floors or walls can be put in. Kim decides to call her contractor and tells him to recommend another crew she can hire to help his current one complete the job ASAP. He tells her that they can have 1000 men in there and nothing will move faster if they don't have the materials for the light installation. Well, damn. Not satisfied, Kim hangs up on her contractor to fire off a series of profanity ridden emails to her construction team, stating, "this is beyond fucked up, and this is so not fair to do to me and my family." Kourtney looks on in confusion. This scene was filmed on October 29, 2015.
Home renovator Kim Kardashian takes her friend Jonathan Cheban out for lunch. Over their meal Kim tells Jonathan that her baby is currently 7 pounds, and a whopping 3 pounds over the 4 pound in utero standard. And because it's the only thing on her mind, Kim also complains about her unfinished home. Confused, Jonathan asks why she and Kanye don't just move into their finalized Bel Air house. Kim can't even fathom the thought because it's already on the market and she does not want people seeing the house while her family's living in it. Like myself and my team, Jonathan is mainly concerned and confused about Kim's decision to stay in Kris' house when she has two perfectly good—one COMPLETELY FINISHED—homes in the hills of California. I digress. This scene was filmed on November 9, 2015.
Scene 11: Filmed on November 9, 2015
Kimberly West takes her friend Jonathan Cheban to see the Bel Air house that she just cannot live in. Of course it's ornately minimal and stunning. Kim does respect the space enough to roam around it in house shoes, which is endearing. As they tour the space Kim reminds Jonathan that it's easier to stay at Kris' because she and Kanye would have to fully furnish and decorate this house and then do the same to the new one in a matter of months. I sort of understand, but I'm still not buying it all the way. Like their lunch in Scene 7, this scene was filmed on November 9, 2015.
Scene 14: Filmed on November 9, 2015
Kourtney Mary Kardashian visits with her sisters Kim and Khloe at her home. Kim has just come from the doctor and is worn out. Kim asks Khloe to help her take off her boots, and reveals her swole AF ankles. Sadly, Kim learned that her baby is breech and needs to be turned within the next week. She also found out that if he's not turned within the week, she will need to have a c-section, and that the baby will be born on or before November 23rd. Her sisters are shocked and concerned. Kim had a busy day and probably needs to sit down somewhere, because like her lunch and home tour in Scenes 7 and 9 this scene as filmed on November 9, 2015.
Scene 17: Filmed on November 9, 2015.
Kim Kardashian hangs with her friends Larsa Pippen and Jonathan Cheban at a cosmetic dermatologists office. Kim is there for some emergency laser treatments to remove skin tags on her neck. After her treatment is done, she asks the doc to do a quick vaginal tightening procedure on her friend, Larsa. Larsa isn't prepared to open wide for the doctor just yet, so she holds off. Again, like Scenes 7, 11, and 14, this scene was filmed on November 9, 2015.
In a Keeping Up With the Kardashian's miracle Scott Disick returns home from rehab! Scott is happy as a clam to be home and run around with his kids, and Kourtney could not care any less if she tried. Kris Jenner is also in attendance for this terribly lackluster homecoming. Kourtney seems to be guarded, as she's seen a "better" Scott so many times before. In her confessional, Kourtney also says that 30 days of rehab isn't enough for her to "trust the situation," and she seems to have been right. After chatting with Scott and Kourtney for a moment, Kris leaves to let them awkwardly be. This scene, which was taped in the evening, lines up with Scott's departure from rehab earlier that day. Meaning, this scene was filmed on November 10, 2015.
Scene 22:
Kris Jenner, mother to the stars, takes her daughter Kim Kardashian, who says in her confessional that she is 4 centimeters dilated, on a home tour. Kris, clearly annoyed with her daughter's staying power in her home, has bought herself a brand new getaway condo. As Kris walks her daughter around her new home, Kim's water breaks. Kim is "not kidding," and they appear to head to hospital.
This is where it gets interesting. Kim Kardashian's confessional, where she describes the tour, her dilation, and her doctor prepping her delivery room, was filmed on September 28, 2015. This was over two months before Kim gave birth to Saint West. Additionally, this scene was filmed in the dead of night, and by the looks of this Instagram, timestamped at December 4 6:04PM EST, so she may have been in her VIP birthing suite at the hospital by 3:04PM PST. Since the above instagrams flooring is vastly different from any flooring in Kris Jenner's Calabasas home, it's possible that Kim was lounging in a hotel, Kris' new apartment, or a shelter near the hospital. This means that she could have taken her makeup off that night and headed to the hospital closer to the time she delivered Saint West on December 5th.
Now, it is possible that Kim's water could have broken up to 12-24 hours before delivery of her baby, per my Google searches. In fact, my team and I even contacted our go-to medical professional, who also happens to be our mother. This lovely colleague of ours, who also has had three children naturally herself, stated: "Someone who is 4cm dilated is in active labor and should be in the hospital. My God, they shouldn't even be walking around, in my experience and in my opinion." So, if Kim is as trill as she wants us to believe, she could have been dilated the night of December 3th or early morning on December 4th, making it possible that her water could have broken and she could have had time to run home, beat her face, gather her belongings, head to the hospital, and deliver a baby. But, that's a stretch. Such a stretch that #KUWTKE's medical professional, hours later, followed up my call with this text message and other thoughts regarding Kim's lies:
So, sadly, for the first time ever, I cannot pinpoint the exact date that this scene was filmed, but I can definitively pinpoint that it is a lie.
Well, that's all she wrote for Season 11, dolls. Check back in on my vitals next season for more #KUWKim's Cervix re-cap on #KUWTKE. #ISTHISALIETOO
---
Mariah Smith is writer and comedic performer who keeps up with the Kardashians. For more Keeping Up With The Kontinuity Errors click here. You can follow her on Twitter @mRiah.

Images via E!