On Sunday night's episode of Keeping Up With the Kardashians, the A-Plot was Kris and her children getting tested for cancer genes; the B-Plot was Scott's continued troubles; and the C-Plot was Kendall and Caitlyn's strained relationship. Things moved pretty slowly on this week's episode, but a slow Kardashian pace is better than a civilian fast pace, so #LEGGO.
Lip Kit Purveyor Extraordinaire, Kylie Jenner, conducts a private photo shoot at her home in anticipation of her Lip Kit launch. Decked out in teal weave and the darkest shade of her perfectly crafted liner and lip gloss, Kylie poses for her life. When she finishes the shoot, her father, Caitlyn Jenner arrives. Kylie tries to teach Caitlyn how to pose, and both Jenner's look like they're trying to overcompensate for a herniated disc. Now that Caitlyn is living her truth, she and Kylie get along better because they both like makeup. The two take a quick snapchat and head off to lunch. Kylie's in-house photo shoot was filmed on October 26, 2015.
G/O Media may get a commission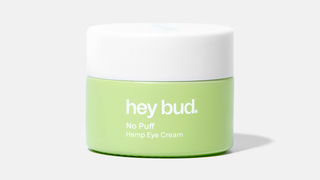 15% off
Hey Bud - No Puff Hemp Eye Cream
Kim and Kourtney visit Kris Jenner at her home. The three gather round Kris' dining room table and Kourtney ask Kim if she likes the decor changes Kris has made to the house. Kim flatly says, "I don't think they're significant enough." Both Kourtney and Kim offer up some ideas on how Kris can update her home so it doesn't look so "dated." Kourtney thinks that Kris should get rid of all of the columns in the house, and Kim thinks that she should ditch the barely visible crystallized stain glass inserts above her front door. Kris doesn't appreciate their critiques, so she transitions the conversation to cancer. Basically, Kris' mom MJ struggled with various cancers and she wants the family to get an advanced test that will screen her and her children for the cancer gene. Kim and Kourtney are down, which is great since Kris scheduled a doctor to come down from San Diego and draw their blood at a family photo shoot the following day. Though Kourtney is wearing the same outfit she wore earlier in the week, Kim's hair, minimal glam, nails, and Kourtney's glam and nails let us know that this was filmed on August 7, 2015.
The next day at the family photo shoot, Kourtney, who looks like your auntie the waking you up for church on Sunday morning, and the rest of her sisters and Mom gather for a "gothic" photoshoot. Kris' physicians from Pathway Genomics are on set as well, and they draw blood from everyone but Khloe throughout the day. Khloe, who seems to be taken off guard by this outpatient procedure at work, declines to have her blood drawn because she "doesn't have time." Kris and Kendall try to urge her to go through with the procedure, and Kendall, who is still too young to know the right things to say, tells her sister that it's the same test that Angelina Jolie had done before she decided to get a double mastectomy. Kris also thinks Khloe should be the first on the list for this test because she has already had skin cancer. Khloe again declines. This scene was filmed on August 8, 2015.
Kourtney, who is on the photography move, heads to another photo shoot at Smashbox studio. She's doing yet another nude shoot with Brian Bowen Smith. Since she's lost so much weight from since her split from Scott, Kourtney doesn't have many concerns about her body. The only thing she's worried about is how little her ass has gotten since the weight loss. In the middle of her shoot, Kylie stops by. Kylie is super supportive and even offers Kourtney some tips on how to better her poses. This was filmed on September 29, 2015.
Kim Kardashian and famed Celebrity Big Brother UK contestant, Jonathan Cheban, grab lunch. Kim tells Jonathan that she's a little bit run down in these last few months of her pregnancy. She also says that she's nervous about how North will react to being a big sister when her "world turns upside down" once her little brother arrives. Interestingly enough, Jonathan agrees with Kim and says "yea, with the King?" and Kim immediately says "with the little boy" as to correct Jonathan from saying what was then Saint's name. So, maybe Kim and Kanye thought to name the baby King before settling on Saint. In any case, Jonathan gets a bit too deep in his sympathy for North, and this child's mama, Kim Kardashian West says, "she's North West. She'll be fine." Not only is Kim rapidly losing sympathy for her daughter, but she's also losing sympathy for Scott. According to Kim, he's been MIA and even flaked on a one-on-one chat with Kris because he claimed that he was sick. But, Kim heard from Kylie that he was feeling well enough to be at a pool party she and Tyga attended that night. Kim says that she truly loves Scott, but he had it all and chose to throw it all away. Kim's brash allegations against her family members were filmed on August 31, 2015.
Keeping Up with the Kardashians series regular, Kylie Jenner, dines on tea and froyo with recurring guest star, Kendall Jenner. Kendall is upset because she feels like she isn't able to connect with Caitlyn as well as she was able to with Bruce. She misses doing the "boyish things" like "dirt biking and adventures." Kylie takes a look at Kendall's undone nails and swipes her coffin shaped talons against them and suggests that Kendall ask Caitlyn to get their nails done together. Wow. Kendall decides against that, and settles on talking to Kylie. This scene was filmed on November 4, 2015.
Khloe drives Kim, North, Mason and Penelope to San Diego to get their test results and visit their grandmother, MJ. Kris is also on her way, but she is driving down with Corey. Khloe, much to Kris' excitement decided to take the genetics test to appease her grandmother. The three little kids in the backseat will not stop screaming for entertainment, and Kim, the hands on mom that she is, jokes that she's going grey just from this short drive. So, to alleviate the pain, she takes a car selfie. While driving, Kim gets an odd text from Scott; he wants her to tell his kids that "dad loves them." This car ride was filmed on September 22, 2015.
Scene 17: Filmed on September 22, 2015
At Pathway Genomics, Kris, Kim, and Khloe get their results. They are joined by Kris' flavor of the year, Corey Gamble, and famed celebrity plastic surgeon, Paul Nassif. Dr. Nassif is a friend of the Kardashian/Jenner family, and Kris wanted him there in San Diego to deliver their results. Definitely not a waste of his time. Thankfully, all test results came back clear and none of the family members who were tested carry a cancer gene. Man, the rich can really have it all! Such a moving truth!!! Like Scene 15 this scene was filmed on September 22, 2015.
Kim and Kylie visit Kris Jenner at Kris Jenner's house. Kris goes into a lecture for Kylie about not booking any appearances behind Kris' back. While Kris speaks, Kim gets a call from Khloe who is also on the phone with Scott. Scott is in terrible shape, and sends Khloe some troubling text messages about how he can't take it anymore. Kim, realizing the situation, tells her mom and sister to stop talking so that she can hear Scott and Khloe's conversation. Scott breaks down, and Khloe calmly asks him if he's taken anything today. Kim tells Khloe and the room to call the police. Kim tears up as things get worse on the phone. Scott is in New York, so Kris reaches out to his BFF Chris Reda who lives there. Kris tells Chris to go to Scott's room and make sure to get inside, then text her letting her know that Scott is safe. Chris does just that, and Scott abruptly hangs up on Khloe. Despite Scott's emotions and behavior, things turned out alright in that moment. After the call, Kim, annoyed, states "that made me sad." This sad, sad scene was filmed on September 24, 2015.
Well, that's all from your girl this week. Check on my vitals next week for another KUWThe Cancer Free Kardashians re-cap on #KUWTKE. #KINGWEST
---
Mariah Smith is writer and comedic performer who keeps up with the Kardashians. For more Keeping Up With The Kontinuity Errors click here. You can follow her on Twitter @mRiah.

Images via E!