Good evening, precious Saints and Ain'ts of God. Welcome to another rousing re-cap of our nation's preeminent study on wealth and age, Keeping Up With the Kardashians. The post is late due to Patron Saint West's birth; forgive me and my staff, please. Other than that, this show will go on as usual.
On Sunday night's episode, the A-Plot was Kylie's 18th birthday; the B-Plot was Kris and Caitlyn's relationship; and the C-Plot was Kim moving back in with Kris. So, let's dive in and see just how much Kylie Jenner's life changes after becoming a ~*woman*~. #LEGGO
In the hidden hills of Bel Air, California, Real Estate Contractor Kim Kardashian, takes her friend Jonathan Cheban to inspect the work on her latest home project. Kim gives Jonathan a tour of the perpetually gutted (and now sold) home. Similar to when Kim and Kanye bought the sprawling estate in 2013, there are extensive renovations that need to be done, forcing her to move back in with Kris Jenner. Another similarity is Kim's fast approaching delivery. She reassures Jonathan that the home, with no walls, doors, or any telltale signs of completion, will be done in time for her newer baby in December 2015. Kim's HGTV pilot was filmed on August 3, 2015.
Kylie Jenner treks all the way from Calabasas, California to Malibu, California to visit her father, Caitlyn Jenner. Caitlyn shows her youngest daughter a plaque she received from the Guinness Book of World Records, honoring her with "The Fastest Ever To 1 Million Followers On Twitter" award. Cait is also excited about beating out various teen idols for the crown of Social Media Queen at the Teen Choice Awards. After explaining to Kylie Jenner the trials and tribulations of maintaining social media accounts, Caitlyn asks her about her 18th birthday party. In a sweet gesture, Cait offers to host the kiki at her place, to which Kylie scoffs and looks around at the mansion as though it was a piece of suburban trash. Kylie is touched that her dad wants to celebrate her birthday with her, but she already decided that she wanted to do something with just friends as not to cause any awkwardness between Cait and Kris. Cait claims that she and Kris are on good terms. Kylie doesn't buy it, telling her dad "you two haven't even met!" Damn. Over the conversation, Caitlyn gives her daughter a set of underwear with her face all over it. Um. Yuck. This scene was filmed on September 2, 2015.
G/O Media may get a commission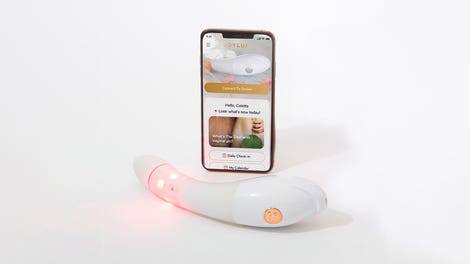 $50 Off
Joylux vFit Gold Device
Kris Jenner cruises in her car and calls Caitlyn Jenner (who she still has in her phone as "Bruce"). Fed up with her daughter Kylie's birthday party hesitations (due to her parents' strained relationship), Kris Jenner reaches out to her ex. Kris invites Caitlyn to a family dinner at Nobu to celebrate Kylie's birthday, and Caitlyn agrees. The two are happy that they finally agree on something. This scene was filmed on August 25, 2015.
Victoria's Secret model, Kendall Jenner, visits her younger sister, Kylie Jenner's home. Learning from their elders, the two have a conversation in Kylie's closet. After critiquing Kylie's clothes, Kylie tells her sister that their mom, Kris, invited Caitlyn to her family birthday dinner. Kendall thinks that the dinner will be weird because she has never seen them interact together. Still, she thinks it's their job as kids to not make the dinner awkward. Despite her parents coming together for a small family dinner, Kylie admits that she didn't tell either of them about her bigger party at Bootsy Bellows. Finished with talking about their parents and parties, Kendall confused Kylie for needing to take a shit because her face looks like she needs to take a shit. This was filmed on August 28, 2015.
Kim tags along with Kris Jenner who is on her way to Malibu for her first meeting with Cait. Kris is "nervous but excited to meet Caitlyn." She also wants to get closure on a few things and she wants to expose to Caitlyn all the hurtful things she's done and try to convince her to be a "decent" human being. This will go...well. Kris' car ride to Malibu to meet Caitlyn Jenner was filmed on July 29, 2015. In addition to being Kanye West's mother-in-law, Kris Jenner can also manipulate time because Kris called Caitlyn to meet for the first time on 8/25/15, almost a month after their first meeting took place. Now who's not being the decent human being, huh Kris?
Scene 15:
In a reduced, reused, and recycled scene from I Am Cait, Kris Jenner finally comes face to face with her ex, Caitlyn Jenner. Their meeting and interactions are tense. Before they sit across from one another in Cait's living room, the two discuss a cheese plate. Once seated, Kris immediately reams Caitlyn for "throw[ing] [her] under the bridge." Um, okay. Caitlyn pushes back telling Kris that she was hurt about not being invited to Kendall and Kylie's graduation party, especially considering the hours of parenting and carpooling she clocked in. As all roads lead, Kris tries to one up Caitlyn by bringing up the Vanity Fair article that will never die. Explaining that she too had hurt feelings from this whole ordeal after the hours she clocked in as a wife. Caitlyn tells her that these are two very different situations and Kris needs to cool it. Kris goes on to tell Caitlyn that she needs to become a more "sensitive" and "amazing" person to her family.
In Kris' confessional she shades Caitlyn more, claiming that the only person she met who is more stubborn than Bruce Jenner is Caitlyn Jenner. Kristen Jenner. Sit down, ma'm.
Still hashing things out, Kris tells Caitlyn that she thinks her feelings don't matter anymore to Caitlyn and Caitlyn calls that "BS." Tis the season for two wealthy, divorced, and equally problematic baes to hash out their emotional issues on national TV. Kris also calls Caitlyn "hurtful." At the end of the chat, they take a selfie together. This meeting was filmed on July 29, 2015.
Scene 17:
The family gathers for Kylie's 18th birthday dinner in Malibu at Nobu. Everyone gets there before Caitlyn, who is over an hour late. This bish, ya'll. Kris is upset with planning where everyone will sit and seats Caitlyn across the round table from her. Kris also tosses back at least two martinis before Caitlyn shows. Ever the mediator, Kim requests a selfie with both Caitlyn and Kris. Kris and Caitlyn connect over Caitlyn seeing an old friend of theirs who hadn't yet seen Caitlyn in the flesh. She ran into him while exiting the ladies room. The table was shocked, not by the friend, but by the fact that Caitlyn Jenner a woman, used the women's restroom. Khloe was the only one who really seemed to get it saying, "of course [she uses the ladies room], she's wearing a Tom Ford dress!" The dinner ends on a good note with Caitlyn and Kris walking out together to "shake up the paparazzis." Kylie's birthday dinner was filmed on August 7, 2015. Curiously enough, this, and her larger party, were filmed over 20 days before her conversations with Caitlyn (Scene 4) and Kendall (Scene 12).
Kylie celebrates her birthday with a large kiki at Bootsy Bellows. The party is filled with fun, cake, and booze. Since she's 18, Kylie officially announces that she is dating professional garbage person, Tyga. She also tries to convince us that he actually bought her that Ferrari. Ah, to be young. Her party was filmed on August 9, 2015.
Well, dolls that's all for this week's tea on Blessed Saint West's extended and slightly removed family. Come check my vitals next week for another KUWKanye West's Baby Mama's Family N' Them re-cap on #KUWTKE. #TellSaintWestAboutMe
---
Mariah Smith is writer and comedic performer who keeps up with the Kardashians. For more Keeping Up With The Kontinuity Errors click here. You can follow her on Twitter @mRiah.

Images via E!