On Sunday night's episode of Keeping Up With the Kardashians, our A-Plot was the family vacation to St. Barths; the B-Plot was Khloe's ongoing relationship struggles with Lamar; and our C-Plot was Kylie bringing Tyga on their girls-only vacation. As always, frustrations run high when the family is cooped up together for their annual trips, so let's see if any diamonds get lost at sea! #LEGGO
Ana Gasteyer Satirizes the Girl Boss in 'American Auto'
Auntie of the Year, Kim Kardashian West, roams a supermarket with her eldest nephew, Mason Dash Disick. Kim, whose armpits are apparently rank, decides to shop for new deodorant. Like someone who hasn't shopped for a personal hygiene product for themselves in years, Kim heads straight for the all-natural products. Kim thinks that since she's pregnant, her deodorant isn't quite cutting out the stench like it should. Poor Mason is then subjected to Kim shoving various scents in his nose to get his opinion on a product he knows nothing about. Kim is proud of her au naturel endeavor and asks Mason if he understands how monumental this moment is. Mason, speaking for the world, says, "no, I don't understand anything." Kim's crunchy behavior was filmed on August 27, 2015.
Kylie Jenner visits her father, Caitlyn Jenner, at her Malibu home. Caitlyn tells Kylie that she loves when she visits, because Kylie's hair color is always unpredictable. Caitlyn also asks how Kylie is dealing with Kendall's excessive travelling. Kylie claims she's unfazed because she's "used to it." In an effort to make more conversation with her daughter who has turned into a walking Droid, Caitlyn invites Kylie to the racetrack to test out her Ferrari, a birthday gift from Tyga. Kylie is "down." This scene was filmed on September 1, 2015.
G/O Media may get a commission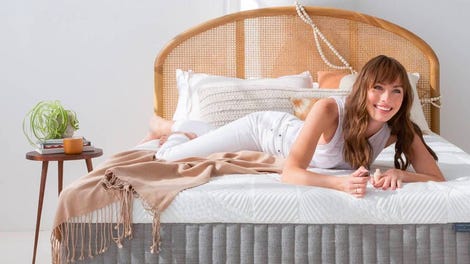 Sleep Sale
Sleep Sale - Brentwood Home
At Kris Jenner's shelter for the overprivileged and overserved, one of her guests, Kim Kardashian West, comes to chat with Kris in her bedroom. Shortly after Kim arrives, Kourtney enters. Kourtney asks her mom about a text she sent, which stated that she would not be joining the family on their upcoming vacation to St. Barths. Kris is still upset with how Khloe and Kim treated her regarding the whole Lamar incident, so she thinks it's best that she sit this one out. Kris tells the girls that her heart can't handle the "abuse" she's getting from Khloe and "mostly Kim," to which Kim gives the most sinister and prideful of smirks. Kim thinks she's done nothing wrong, since she only stood up for her sister, and goes on to tell Kris that her even sticking up for Lamar makes her a "bad mother." Fed up, Kris tells Kim that she "would never speak to somebody the way you speak to anybody." Kim, that is your MOMMA, calling you out, honey! Get it together! Kourtney is caught between the drama, and doesn't know how to respond when Kim defends her words telling Kris, "it's the truth and the truth hurts." Kris storms out, making it clear to her kids that she won't be joining them on vacation.
Kourtney and Kim relocate to another room in Kris Jenner's shelter, where Kourtney reads a text message from Kris. Kris tells Kourtney that she's "done for the day" and wants Kim, "out of her house." She also tells Kourtney that Kim can stay with her and by the time they get back from St. Barths, Kim's belongings will have been moved out of Kris' home. Kim, with zero emotion, says "I will gladly move out."
Because of Kim and Kourtney's glam, nail colors, and accessories, it's clear that this scene was filmed on August 11, 2015 after both women filmed confessional shoots for the show.
Kylie, Caitlyn, and E!'s newest fave Candis Cayne make their way to the racetrack. When they arrive, Kylie gets behind the wheel of her Ferrari, and Caitlyn guides her. Kylie is itching to go fast, but Caitlyn starts her off slow while talking about "gears" and "throttles." When Kendall arrives to join in on the fun, Kylie immediately leaves. Upset, Kendall tells Caitlyn that Kylie felt that she could guiltlessly pass the daughter baton over to Kendall, who would occupy Caitlyn for the rest of the day. Kendall also admitted that Kylie "doesn't have her priorities straight." Um, excuse me, Kendall, IDK if you heard, but Kylie has a LIP KIT. The Jenner Family Racetrack Special was filmed on September 20, 2015.
The Kardashian Krew touches down in St. Barths, and much to her progeny's chagrin, Kris Jenner is there as well. They arrive at their ~*exclusive*~ villa, and get the scare of a lifetime when their host looks exactly like Scott. Khloe sits down with Kim to get more insight on as to why Kris Jenner joined them, because she didn't know she would actually make the trip until she got on the plane. Kim says that she doesn't want to get back into the details of the fight, so they try to let it go and enjoy their stay. This scene was filmed on August 17, 2015.
Later that night, the Kardashian Krew has dinner at a local restaurant. Noticeably absent is Kylie, who is joining them the next day. Kim, who is always eager to be at the forefront of somebody's drama, tells Kendall that Tyga is joining the trip. Kendall is unimpressed because this was supposed to be a girls trip and she was looking forward to spending some quality time with her sister. Kourtney is also unenthused, offering a cold "when is he coming." In fact, the only person who is impressed by this development is Kris Jenner, who knowing this was a girls/family only trip, told Kylie it was okay to invite her flavor of the month. Kris thinks it's okay, because the other sisters have brought along their side pieces on vacations in the past, so they should really be understanding. Like Scene 6, this was filmed on August 17, 2015.
Guided by a local personal trainer, Kris, Kourtney, Kim, and Khloe go on a hike through St. Barths. Kris is immediately tired, and in the open, vast, clear aired land of a different country huffs that "this is why God invented treadmills." Her daughters all but tell her to shut up and keep it moving. After their hike and some selfies, the group takes a dip in the ocean, fully clothed. Ah, to have and to hold, millions. This was filmed on August 19, 2015.
Kylie welcomes human garbage disposal Tyga to St. Baths with minimal excitement from her sisters. Kendall tries to make conversation, and asks Tyga how he got his rap name. Tyga taunts Kendall saying, "you really wanna know?" Prepped for the story of a lifetime, Tyga tells the table that his mom thought he looked like Tiger Woods when he was younger, so she called him "Tiger." As he got older he changed the spelling to "Tyga," which also stands for Thank You God Always. The end. Kendall, beginning to realize just how lame this person is, mumbles, "fun story, tell it again." Tyga's entrance and extemporaneous magic was filmed on August 18, 2015.
Kris, Kim, and Khloe make their way to lunch, Kim points out some purple veins on Kris' legs. Kris is upset at first, but then realizes that she's complained about them to Kim in the past. Khloe, is confused as to why Kris just can't laser them away, especially if Caitlyn can transition from a man to a woman. Oh, boy. At this moment, Kim gets word on her cellular device that Lamar had a sit down interview with In Touch magazine, claiming that he and Khloe are still soul mates and in love. Khloe is extremely confused, because this type of public display is out of character for Lamar. This scene was filmed on August 19, 2015.
Scene 18: August 19, 2015
At lunch, Kourtney, Kendall, and Kylie wait for Kris, Kim, and Khloe to arrive. Human Waste, Tyga, tells the table that he wants to get a blacklight tattoo on his face. Kendall and Kourtney warn him that he might wanna test that out on another part of his body first. The rest of the Krew arrives, and tells them about the interview Lamar did with In Touch. Everyone feels bad that Khloe is in this situation, but Kim thinks that she needs to hold her ground and not respond to Lamar in any way. This means no tweets, Instagram quotes, or statements. Like Scene 17, this was filmed on August 19, 2015.
Well, dolls. That's it for us before the holidays. Remember to treat this time of cheer and merriment as Trash Heap Tyga would, show up any and everywhere, regardless if you are welcome or not. Check back in with me in 2016 for another KUWKim Kardashian's POW Kris Jenner re-cap on #KUWTKE. #KIMOJIBIH
---
Mariah Smith is writer and comedic performer who keeps up with the Kardashians. For more Keeping Up With The Kontinuity Errors click here. You can follow her on Twitter@mRiah.

Images via E!