So...Ke$ha had $ex with a gho$t. Okay? $he had $ex with a gho$t. $he and the gho$t, they got together "a couple" of time$, and he put hi$ gho$t peni$ into one of her mortal orifice$, and it in$pired her new $ong "$upernatural." Okay? Okay?? IT'$ JU$T GHO$T $EX. WHAT I$ YOUR QUE$TION. Here's Ke$ha talking a bunch. You're welcome.
"It's about experiences with the supernatural... but in a sexy way," she told Ryan Seacrest on his KIIS FM radio show.

"I had a couple of experiences with the supernatural. I don't know his name! He was a ghost! I'm very open to it."

Ke$ha added that her new album Warrior was based around a spiritual quest she went on to improve her music.

"The theme of this record is magic. I went on a spirit journey by myself," she said. "No security guard. No managers. I just went around the world and lived on a boat.
"I was in Africa rehabilitating baby lions. I went diving with great white sharks, and just went on this crazy spirit quest.

"I got hypnotised, and I just really wanted this record to be really positive, really raw, really vulnerable and about the magic of life."
Ke$ha!!! Never $top talking!!!!!!!!!!! NEVER $TOP. [DigitalSpy]
---
Andy Wachowski—formerly of the Wachowski Brothers before sibling Larry became Lana—made a pretty delightful joke about how Lana's transition affected their moniker:

G/O Media may get a commission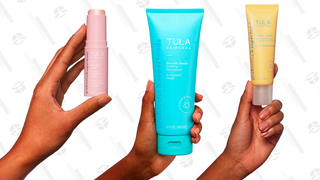 Great work. Solid. Also, Lana looks happy as fuck. Approved. [FilmDrunk]
---
Drew Lachey is concerned that his 6-year-old daughter might reject him in disgust once he becomes a DWTS-sanctioned human yam:
One thing the father of two looks forward to when he breaks away from his DWTS duties is "not [worrying] about whether it's rhinestones or tulle, or spray-tanning or Fake Bake," he says, jokingly. "Those are the hard, pressing questions you have to deal with on Dancing with the Stars."

...The tanning is what the former mirrorball trophy champ expects to confuse his daughter the most.

"The skin tone might throw her off a little bit," he says, adding with a smile, "But she likes Charlie and the Chocolate Factory, so she might just think I'm an Oompa Loompa."
Yes, she might just think that you're a terrifying orange candy slave. And what kind of a life is THAT, Drew Lachey? I ask you. Honestly. [People]
---
Sugar Bear, patriarch of Clan Boo Boo, is out of the hospital after his foot injury (acquired while "mud-boggin'") became infected.
Earlier this morning, June explained what had happened to her beau.

"sorry I didn't update everyone after surgery but it was a very stressful day with everything going on the surgery went great the irrigated the knee it was the start of a small infection but they caught it early which was good.

...Just a couple hours ago, she shared some great news, "well we got more awesome sugarbear is able to come home today woohoo so we r mcintrye bound now will b so glad to b home"
Glad to hear it. I legit adore these happy, happy people. [E!]
---