The fiancée of a missing man from Upstate New York has been charged with murder, after police came to doubt her story that his kayak had capsized during a night trip down the Hudson River. Angelika Graswald, 35, said that her fiancéVincent Viafore, 46, had been pulled under around 7:30 p.m. during an April 19 trip, but her behavior following his disappearance apparently raised red flags with police. Viafore has not been found.

Graswald was charged yesterday with second-degree murder, with police saying in a news conference that there were "inconsistencies" in the accounts she gave of the accident.
In interviews given four or five days after he disappeared, Graswald told reporters the two had been traveling side-by-side in separate kayaks down the Hudson when the wind suddenly picked up.
"I saw him struggling a little bit," Graswald said, according to ABC 7. "He was trying to figure out how to paddle the waves, because they were getting crazy, and then I just saw him flip." She called 911; when emergency responders arrived, she was wearing a life-jacket and was treated for hypothermia. Both kayaks were recovered from the water.
In the days after Viafore disappeared, Graswald posted what the New York Times calls "a torrent" of photos on Facebook, all of which are still up. (Graswald goes by the name "Angelika Lipska" online; Graswald is her last name from a previous marriage.)
G/O Media may get a commission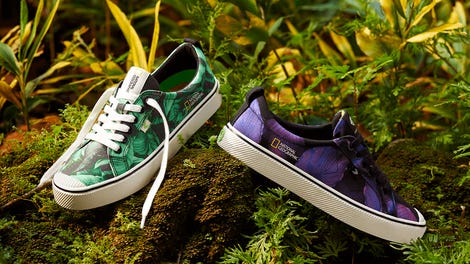 New New New
Cariuma + National Geographic
On April 20, she wrote this:
I just want to thank everyone for reaching out. Please, keep your prayers for Vince. Miracles ARE possible. The authorities are doing everything they can. We do not need anyone else getting hurt, as it is very dangerous out there, especially without daylight. Please, no questions at this point, we're doing everything we can. We will find him.
In the days following, she added multiple photos of herself and Viafore together, along with photos of her cat, cheery posts about visiting an animal sanctuary, inspirational quotes about yoga, pictures of her parrot, and a jaunty new profile photo where she's making a "hang 10" gesture.

The police have declined to comment on whether Graswald and Viafore had a pre-nuptial agreement or whether Viafore had a life insurance policy. She's being held without bail at the Orange County Jail in Goshen, New York. In a press release, the New York State Police said they're still searching for Viafore's body, and are asking the public for help:
The New York State Police are seeking the assistance of the boaters, hikers and fisherman on both sides of the Hudson in locating Mr. Viafore's body and preserving the discovery area for any possible forensic evidence that might exist. If the body is located within the water, the New York State Police are asking to be contacted immediately so that Forensic Investigators can respond.
Anyone with information about the case is asked to contact the New York State Police: 845-457-1388 or ftips@troopers.ny.gov.
Photo via Facebook/Angelika Lipska