Say good night, Gracie, to Katy Perry's spinning peppermint bra, which has been deemed a liability by her tour insurers. The ban was inspired by a recent wardrobe malfunction, admitted Perry: "My hair got caught in the wheels of my spinning peppermint bra and began to coil around and around. I'm forced to just go with it so, by the end of the song, it looked quite like I was licking my own tit." A lovely eulogy, indeed.
It is survived by a bra shaped like cinema reels, a cupcake bra, and that phallic conical peppermint bra from "California Gurlz" that jizzes cream. RIP [NME]
---
Supposedly Andrew Garfield and Robert Pattinson can't stand each other, which means that Emma Stone and Kristen Stewart can't bond on double-dates over how totally weird it is to be famous when you're just a normal person who has panic attacks but just happens to sparrrrrkle. "Andrew hates that they're put in the same category because they're both English and around the same age. They don't enjoy hanging out," says the source. "Andrew considers himself a 'serious actor' and sees Rob as the equivalent of a cheesy boy bander because of Twilight."[Us Weekly]
---
G/O Media may get a commission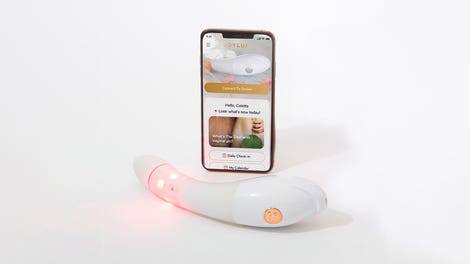 $50 Off
Joylux vFit Gold Device
The boyfights continue this morning with Channing Tatum and Alex Pettyfer, whom you'd think would have been brought together by being pantsless in close proximity in Magic Mike. This is not the case. Supposedly Chay Tates thinks Pettyfer is a diva and a pain in the ass and refuses to do photo shoots with him. Guys—this calls for a walk-off. They're break-dance fighting! [Page Six]
---

Judge Britney Spears' new X-Factor promo displays a weary, Bogie-esque attitude, in which she dismisses one contestant as "bad to the bone." Briiiiiiiiitttt.
---
Unsurprisingly, liberal Obama supporter Angelina Jolie is "mortified" by Brad Pitt's mother Jane's super-righty, anti-gay marriage letter printed in a Missouri newspaper. Pitt has advised Jolie in the past not to take his mom's political beliefs seriously, and the two usually try not to talk politics when they're together. Angelina recently asked Brad to have a talk with Jane about how she shouldn't be writing letters like that because it'll be a big media shitshow.
Meanwhile, Jolie's dad Jon Voight weighed in on Jane's side: "Good for her." Haha, what an asshole. [Daily Mail]
---