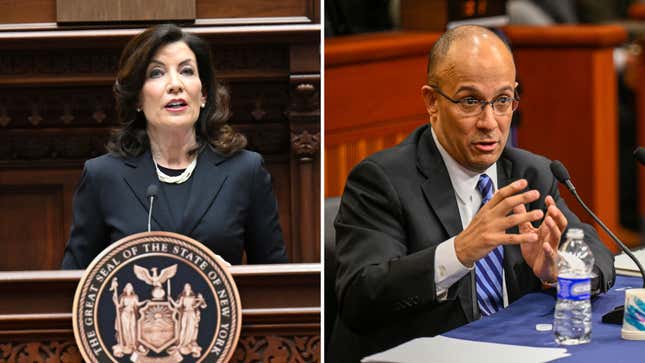 "New York will always be a safe harbor for those seeking reproductive healthcare," New York Gov. Kathy Hochul (D) said in June after signing into law a package of abortion rights measures. At a parade on Labor Day in 2021, she praised the "vital contributions of organized labor to building New York." And yet, the governor is now considering suing the New York State Senate to force a full vote over Hector LaSalle, her nominee to be a judge on the state's highest court, whose nomination has been roundly criticized by abortion and labor rights activists in recent weeks.

The Filibuster is Standing in the Way of Abortion Access
After questioning LaSalle throughout a lengthy hearing, the Senate judiciary committee rejected the nomination 10-9 on Wednesday evening—a vote that would usually mark the end of the road for LaSalle. "Nothing makes it to the floor that doesn't go through the committee first," Sen. Brad Hoylman-Sigal (D) said after. "We have rejected the nominee."
But Hochul's response suggested otherwise: "While the committee plays a role, we believe the Constitution requires action by the full Senate." Earlier this week, she reportedly tapped former state solicitor general Caitlin Halligan, signaling that she may sue to force a floor vote—a truly baffling flex that would pit the governor against her own party.
If it comes to that, "I think she'll lose," progressive state Sen. Jabari Brisport (D) told Jezebel on Thursday. "And if she doesn't lose the lawsuit, she'll lose on the full floor of the Senate." Brisport was one of the first senators to publicly oppose LaSalle's nomination to the state Court of Appeals.
Hochul's office did not immediately respond to Jezebel's request for comment.
Even before his nomination in late December, nearly 50 law professors wrote a letter asking Hochul not to pick LaSalle from a list of seven potential nominees because of his "cavalier attitude towards reproductive rights, hostility to organized labor, and a worrying insensitivity to due process."
On abortion rights, LaSalle intervened to shield an anti-abortion "crisis pregnancy center" from regulation. His move not only overrode the New York City Council, which had determined the CPC in question was practicing medicine without a license, but also the state attorney general, which was conducting a further investigation into the claim based on its "conduct including locating its centers in medical buildings and making them look like medical offices, requesting the medical histories of its clients, performing pregnancy tests and sonograms, estimating gestational age, and evaluating fetal health," according to the 2017 lawsuit.
LaSalle also made it easier for corporations to sue union organizers as individuals, which Sen. Sean Ryan (D) likened during the hearing to "protecting Goliath against David."
As The City noted, senators' "sharp" questioning of LaSalle on Wednesday "was a departure from previous confirmation hearings for Court of Appeals judges." However, previous hearings did not take place seven months after Roe v. Wade was overturned, sending abortion rights fully back to states, where judges will play an outsized role in determining future laws. Plus, as many Democrats and activists have argued, their party ignored the politicization and importance of the judiciary for far too long. Considering judges' actual records when appointing them to longtime (if not lifetime) seats—rather than rubber-stamping someone who's got a nice resume—is simply seeing the forest for the trees.
Despite the very obvious fact that appointing a conservative judge to the state's highest court could hurt the causes she ostensibly has championed, Hochul has aggressively stumped for LaSalle, who would be New York's first Latino chief judge. In the most egregious case, she evoked Dr. Martin Luther King Jr. on Sunday. "Dr. King called upon us to be just and to be fair, and to not judge people. And that has not been afforded to an individual named Judge Hector LaSalle," Hochul said during a speech at a church in Brooklyn.
After Hochul's speech, housing activist and parishioner Genesis Aquino, who told PIX11 that she found it "distasteful" for the governor to compare LaSalle to King, stood up and told Hochul, "I pray that you stand with tenants, and I pray that you withdraw LaSalle." Police officers then removed her from the church.
"I am baffled that the governor has gone to bat this hard," Brisport said. "You know, there were different options from the shortlist of seven who would have unified people across the conference, unified progressives, the moderates, unified with labor, unified with repro groups, and she chose one who was extremely divisive then dug her heels in."
Peter Martin, who coordinated The Court New York Deserves campaign, hopes that LaSalle (or Hochul) will listen to Senate Democrats before turning to the nuclear option of litigation. "The Senate has made very clear by now that [LaSalle] will not be confirmed as the next chief judge. It would appear to be in the interest of all New Yorkers, including Governor Hochul and Justice LaSalle, to…either acknowledge his formal rejection or withdraw from consideration."
"At this point," Brisport said, "the writing has got to be read on the wall by the governor that this has gone way too far."