My year as an 8th grader in New York City was quite fraught; September 11th occurred just days into the school year, and as a result, life as I knew it was upended.

Despite the myriad of short- and long-term repercussions 9/11 would have on my life, trauma does not inhibit all basic life developments from occurring. The usual trials and tribulations a middle schooler might go through continued apace, as demonstrated by this set of entries from my journal one and two months after 9/11.
The most relevant change to my regular day-to-day routine was that my school—which was located blocks from the World Trade Center—was relocated for several months as our building was used for emergency relief. Moving schools meant that my middle school had been placed in another school, jamming myself and my classmates together with even more hormonally charged youths trying to figure out life. It was partially this move that brought "John" into my social circle. I remember him as a charmer, a boy who seemed to act like a man, and perhaps most importantly, one who paid lots of attention to me and my tight-knit group of girlfriends.
You know how therapists sometimes suggest writing a letter to someone that you don't even intend to mail just to get your feelings out? That's the format I chose for these two entries, addressed to "Dear _____." At my somewhat hippy public school, we kept what were called writer's notebooks, where we journaled and practiced writing exercises that our teacher would then read. As such, I was smart enough not to name the object of my affection that I was writing to, but not smart enough to not share with my teacher the highly embarrassing letters in the first place.
In the first letter, I ask John, "Do you think it's possible to fall in love at age 12? I didn't use to, but I'm starting to change my mind." The issue at hand, however, was my uncertainty at whether he felt the same way I did.
G/O Media may get a commission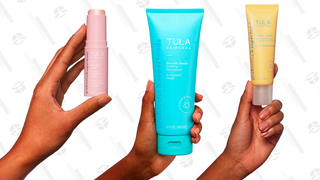 The entry of John into my friend group caused some tension, as several of us were crushing on him at the same time; as you can see, I reference my insecurity that John actually liked my friends Mia and Megan and not me.
"I spend my nights thinking about you, and my days hoping I'll see you," I plaintively wrote to John, before revealing that I had insulted his friend by calling him short (literally the worst thing you can say to a middle school boy; is it any wonder few of them showed any romantic interest in me?) and then doubling down with my shock and awe that said friend would insult me back by pointing out I had big ears, my biggest physical insecurity at the time. (As I would explain in the next paragraph, my biggest personality insecurity was that I was too sarcastic, making me ponder whether or not that was something I should change about myself to make boys more interested in me.)

The letter ends with a dramatically crossed-out poem featuring quotes from John himself, who apparently knew things about kissing and liked to share them with us.

Alas, our group friendship with John ended quite quickly. A month later I wrote: "Dear John, I've changed my mind. Again."
"When I wrote you my last letter, I was much less wise than I am now. Whether you know it or not, you have taught me so much."
I then went on to lay out the two rules I had learned from John, who, as I recall it, quickly showed my group of friends that he was only interested in making out with one or more of us (as you might have suspected, not me), prompting us to cut him out.

"Rule #1: Never trust a guy you know nothing about (this rule apply's [sic] esp. to guys that are 13 years old)."
"Rule #2:When he starts looking around, he's not interested any more."
The entry ends with me wondering about whether I'll be able to trust men again after this situation. The answer: eh, but I am still friends with Mia and Megan.