"With her golden locks bundled into a loose ponytail, everything about Miss Upton is full and perky—including her beguiling personality," begins Alexa Chung's British Vogue cover story on Kate Upton, in a statement that does not bode well for the quality of the rest of the piece.
Included in this impressively dull read are some perky quotes from co-star Cameron Diaz ("Oh, 1,000 per cent she's a girl's girl") and a paragraph dedicated to Upton's Instagram page (her bio line is lyrics from a One Republic song). But there is always a takeaway, even in such dire circumstances, and here, Upton reveals having been angry with Terry Richardson for releasing the now-famous "Cat Daddy" video that fast-tracked her modeling career.
Did she stand up to Richardson when she discovered it had gone viral? "Yes, I did. I was like, 'That was disrespectful, you could have told me!'" She couldn't stay angry: the video helped to secure Upton's global fame. "Now, obviously, it's fine," she says. I ask Richardson whether he feels somewhat responsible for Upton's rise to fame. "No," he demurs, "Kate was born a star."
Chung makes no reference to the considerable creep-factor Richardson lent to this particular situation. But beyond this single example, Upton has made several references over the years to situations that effectively crushed her sense of agency—like many celebrities, she seems to have been pulled into this life by forces largely out of her control.

"I think it was kind of how everything was placed at once, in a weird way," she says vaguely, when asked to pinpoint the exact moment she became a megastar. "I had Sports Illustrated and that next year I worked with Vogue and it was really just the placement of things. One year I had a lot of male followers, and the next, women followers and fans. I didn't have a say in it - that was just how it went."
G/O Media may get a commission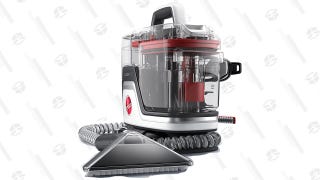 Save $10
Hoover CleanSlate Plus Carpet & Upholstery Cleaner
That was just how it went. But Upton, who is only 22 and whose original career goal was to land the cover of Sports Illustrated, displays a sense of naiveté about the fickle high-fashion universe she now inhabits: "Once you're in the fashion crowd, it's almost like a family," she says. "They're so loyal and so supportive, and I talk to most of those people on a daily basis."
Key phrase here? "Once you're in."
Image via Mario Testino/Vogue UK