While it is hardly the first time Kate Moss's tater tots come out and say 'sup y'all, her hairstylist leaked that he just wrapped Moss's nude shoot for the January issue of Playboy next year — the same month as her 40th birthday. It's also Playboy's 60th anniversary.
The famous shots of her topless in the headdress, taken by photographer Corinne Day, were when she was just 16. She's also appeared naked in ads for David Yurman, St. Tropez sunscreen, Italy's Pirelli catalogue, and probably in the butthole of at least one dog. [Page Six]
---
G/O Media may get a commission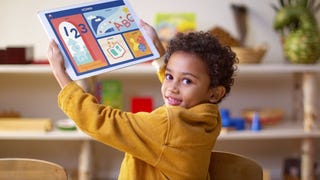 30-Day Free Trial
Homer Learn & Grow Program
An upcoming memoir compiled from taped interviews with the late Ava Gardner continues to explore the mysteries of why the fuck she ended up married Mickey Rooney (who had the nickname "Mickey Hard-on." Which doesn't even rhyme. You'd think people in the golden age of MGM would give a shit about that) before Frank Sinatra.

She quotes Rooney as saying, "I wanted to f**k you the moment I saw you." Gardner was an 18-year-old virgin at the time, and told Evans, "I was shocked. He'd screw anything that moved."
Also: another one of her boyfriends, Howard Hughes, was a total racist. So, I don't know. Wokka wokka. [Radar]
---
The new Miss USA is Miss Connecticut Erin Brady. Here are some talking points, should you need them.
She wore an orange bikini with a matching halter-top as she strutted to the Jonas Brothers' "Pom Poms." Later, she donned a strapless gown with a spangled golden corset and long white train.
On DNA testing:
"If someone is being prosecuted and committed a crime, it should happen. There are so many crimes that if that's one step closer to stopping them, then we should be able to do so."
Still somehow not as bad as Miss Utah's answer. [ABC News]
---
Marc Maron, purveyor of exellent comedy podcast and less excellent semi-autobiographical IFC show, got engaged. "I got her a ring and everything. I served her pancakes on her birthday and stuck the rock right in the middle of the top cake on the stack. We cried and laughed." And Tweeted and tumbld, or else it didn't happen. [Us Weekly]
---