At the Business of Fashion, writer Imran Amed was compelled (reluctantly, no doubt) to Kate Moss's private vacation villa "on the picturesque Greek island of Hydra in the Saronic Gulf" to discuss Kate Moss Agency, the business she has started to manage models who are interested in expanding their careers to the multi-hyphenate. "You know that film 'Gia'? Faye Dunaway plays the agent. I could so do that," Moss told BoF. "But I want to focus more on managing people's careers than just [running] a modelling agency. I don't really want pretty people, I want people that want to sing and dance and act—I want to create stars."

On the agency's Instagram, she's announced two new signees: Elfie Reigate, a 16-year-old Brit who just walked in Alexander McQueen at Paris Fashion Week, and Louis Baines, whose work includes a slot as the face of a Topman campaign.
Moss started Kate Moss Agency with her lifelong booking agent, Lucy Baxter, from the agency that first signed her, Storm Models. Moss tells BoF that not only does she have enough experience in modeling that she knows how to work the business side through and through—the piece notes her agency has lost count of how many Vogue covers she's had—but her experience as a young model in the business has given her a unique perspective to its specific perils:
"Naomi took complete care of me. She'd say, 'Calm down.' I think because you're alone a lot of the time, you really need guidance. Even now you're expected to do anything to get the picture, and that's a work ethic, but you also need a support system."

"There are all these young kids and when Cara [Delevingne] came to me she wasn't well and I was like, 'Babe, I am going to take you to a doctor,' you know, because I've been there. I've got a maternal side and I'd like to take care of them and nurture them so they grow to their full capacity in anything they'd like to do, instead of being used up and tossed out, because I think that can happen a lot with things working so quickly."
G/O Media may get a commission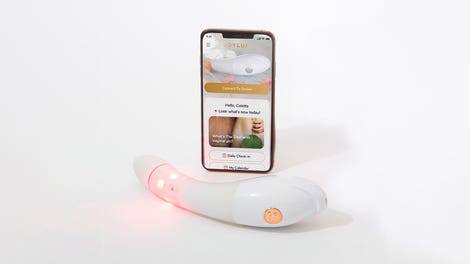 $50 Off
Joylux vFit Gold Device
The topic of social media, and how current models leverage it, of course comes up, and both Moss and her business partners seem to have no real use for Instamodels, while recognizing Instagram's importance. Moss's take is that "They've definitely got another side with it, like the Instagram side, and they know their business I think, and are really aware"—which seems a little shady!—and Calvin Klein drops a fun nug himself:
"Well, the focus seems to be on how many people follow Kendall Jenner, because she's perfectly beautiful, she has the right look, but I wouldn't have measured how many people follow her because I always believed that I could create that interest, I could create the excitement with someone who isn't well known," reflects Calvin Klein. "I still believe that to be true, even though it seems to be that models get paid and booked based on how popular they are."
Kendall Jenner is currently the face of some Calvin Klein adverts but Klein, if you'll recall, had nothing to do with that decision and was very vocally not feeling it. Drama! But individuality has always been Kate Moss's steez—even when her partying ways have cost her campaigns, like the 2005 coke scandal, as BoF points out—and she's emphasized that's what she's going for with her new business. This will be good.
Read the whole profile here.