The first post-birth update about Kate Middleton and Prince William's Royal Spawn will be delivered via easel to Buckingham Palace, according to The Telegraph: "The first indication that the Duchess has given birth will come when an aide leaves the hospital carrying a piece of paper with details of the baby's sex, weight and time of birth, which they will hand to a driver to be taken to Buckingham Palace. The notice will then be placed on an easel on the forecourt of the Palace for the waiting world to be given its first information about the future king or queen."
The couple have opted not to know the sex of the baby beforehand, but "bookies" (who I am picturing as the Artful Dodger because I'm ignant/hectic) are guessing it's a boy because of the blue pram. The nursery K8 spent a lot of money on at her parents' house, however, is neutral.
If you will not be in Buckingham at the time of the royal delivery, I will also be writing the baby's information on the forecourt of my ass. [The Cut]
---
G/O Media may get a commission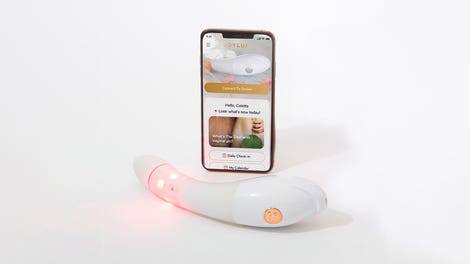 $50 Off
Joylux vFit Gold Device
A French artist named ORLAN is suing Lady Gaga for $31.5 million for allegedly biting off her visual work to use in her looks for Born This Way. According to Radar Online:
The first [ORLAN work], Bumpload, is a 2009 sculpture of a hybrid being with growths on her face and shoulders — a look Gaga rocked on the cover of [the single] in 2011, in the video and in many performances and appearances related to the track.

The second piece in question, Woman With Head, a 1996 performance showing ORLAN's head on a table, appears almost exactly replicated in the opening sequence of the Born This Way video.
ORLAN's lawyers are asking for 7.5 percent of Gaga's $400 million profit, in accordance with French law. K. [Radar Online]
---
Matt Lauer uses a 10-point system to evaluate Katie Coo's looks because he is a real-life, grown, adult man and not a character from Archie comics.
"I think... every man in America was attracted [to Katie Couric]. She's a very attractive woman, not only physically, but her personality... if she's a 9 or 10 physically, she's a 14 because — I hate to do that — because she's got a great personality. She's fun."
See, it's horrible to tell a woman she has a good personality because you're essentially calling her a one-eyed one-horned flying purple hosebeast. I'm so glad he is sensitive to the most major issue that plagues American women. [Us Weekly]
---
A lawyer has stepped in — and I frankly cannot BELIEVE he did not coach her before her horrible deposition — to save Paula Deen from whistling the music from "The Birth of A Nation" as she is slowly submerged in the deep fryer.
"Contrary to media reports, Ms. Deen does not condone or find the use of racial epithets acceptable," her lawyer, Bill Franklin, told ABC News in a prepared statement. "She is looking forward to her day in court."
This lawyer's slogan is probably "Bill Franklin: There For You 5 Minutes Too Late To Stop You From Confirming You'd Love If Black Slaves Worked Your Dinner Party." [ABC News]
Separate But Equal Light And Dark Meat. #PaulasBestDishes. [L.A. Times]
---
Chris Colfer outside Downton Abbey. I've said it before and I'll say it again: without dog butt in frame, it didn't happen.
---