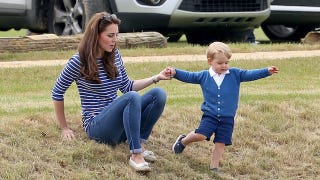 Kate Middleton update: Kate Middleton left the house. Or the palace, I suppose.
First, on Saturday, she appeared in the balcony of Buckingham Palace, for the Queen's birthday. This was her first public appearance since the birth of Princess Charlotte six weeks ago, WWD notes. Unfortunately she was upstaged by Camilla's truly glorious hat, which was somehow constructed to resemble a tall ship, sails billowing proudly in a stiff breeze.
Poor Harry can't even see back there. Just hang in there a few more years, Harry, and they'll probably let you skip it for some yacht time.
Her next outing, the following day, was to a charity polo match in which William and Harry were playing. Naturally! Prince George was painfully adorable, People reports:
Photographer James Whatling says, "[George] was playing on the bank. He was walking up the steps and then tried sliding down the bank. The older ones like Savannah was doing it so he wanted to do it too. "He was sliding down and Kate joined him, trying to support him as he did."
He wore tiny baby Crocs, and he also tried to hit a polo ball with a polo mallet. Classic headstrong firstborn shenanigans.
---
Contact the author at kelly@jezebel.com.
Images via Getty.