Kate Gosselin—a.k.a. the only woman on earth who could make Sarah Palin seem like a fucking awesome down-to-earth gal pal—has reportedly admitted to whacking her 2-year-old babies with a wooden spoon when they were noncompliant. (Fun fact: noncompliance is one of the main symptoms of being a baby!)
As RadarOnline.com previously reported, reporter Robert Hoffman claims that he found secret journals that Kate used to help her write her books, Multiple Bles8ings and EightLittle Faces. "She was beating 2-year-old babies in diapers," he told Star magazine. "I don't judge somebody for spanking, but what Kate wrote in her journal is just absolute violence."

Kate's own words may indict her, claims Hoffman. One example: When three of her children helped themselves to M&Ms without permission, she allegedly wrote, "I really, really lost it! I pulled Collin up by the hair, and I spanked them so hard!"
This article about Kate Gosselin's alleged violent child-whacking also includes a link to her "10 Sexiest Bikini Looks," IN CASE YOU TOTALLY HAVE A BONER RIGHT NOW. [Radar]
---
G/O Media may get a commission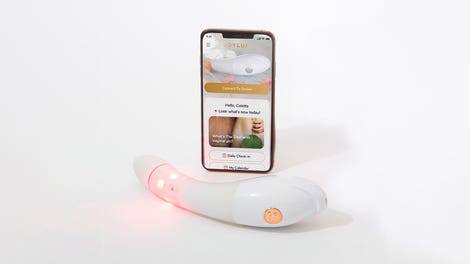 $50 Off
Joylux vFit Gold Device
Oh, for fuck's sake. Blahblanda "Blahblah" Blynes went into a cupcake store and then locked herself in the bathroom for two hours and said she was just "putting on her makeup" and wouldn't come out and then a firefighter had to threaten to kick in the door and it was HELLA STUPID:
What's more, a source tells E! News that the troubled starlet, wearing sunglasses and headphones for most of her stay there, spent a large chunk of time in the restroom.

Meanwhile, a local firefighter, who happened to be in the bakery at the time, needed to hit the head and began knocking on the door. But because Bynes had her headphones on, she probably couldn't hear him, our source says, adding that the situation got blown "out of proportion" when the firefighter wanted to kick open the door.
Now, I'm no professional life coach, but...if you're determined to convince the world that you're NOT a chaotic, out-of-control, unstable coke-zombie, maybe don't take conspicuously long indoor-sunglasses sojourns in public bathrooms. This is just an idea that I have come up with for you. General advice. Could apply to anyone. Not libelous. LYLAS. [E!]
---
In Jerry Seinfeld's (excellent) web series "Comedians in Cars Getting Coffee," Michael Richards opened up to Seinfeld for the first time about his notorious 2006 on-stage meltdown:
"I busted up after that event. It broke me down," he explained. "It was a selfish response. I took it too personally, and I should have just said, 'Yeah, you're absolutely right. I'm not funny. I think I'll go home and work on my material and I'll see you tomorrow night.' And split, or something. Anything. But it's just one of those nights."

Michael is thankful though for one thing: The support he got from his longtime friend Jerry. "Thanks for sticking by me. It meant a lot to me," Michael opened up. "But inside, it still kicks me around a bit."
SERIOUS TIME! I don't want to judge Michael Richards any more than he's already been judged, and I have no desire to see his career suffer more than it's already suffered. I feel bad for Michael Richards. But I do wish he would acknowledge that the language he chose to use—the thing he reached for in a moment of anger—has a specific, violent history of dehumanizing people. Not just why he did it, but what he did. That nightclub incident is a more significant moment than, "Oh, I was selfish and I fucked up and I'm sad now." It has major cultural implications. And I think not examining that is a missed opportunity. OK END SERIOUS TIME. Also, it's kind of gross to get all pious about "selflessness" and then just talk about yourself until the end of the interview. [E!]
---
Fox News's Shepard Smith apologized for accidentally airing a man's suicide on live TV. [ThinkProgress]
---