Get ready to frown sadly at your computer screen. Pragaash, the first all-girl rock band in Indian-controlled Kashmir, has been forced to break up after receiving violent threats via social media and orders to cease by Kashmir's state-appointed cleric Mufti Bashiruddin Ahmad.
Ana Gasteyer Satirizes the Girl Boss in 'American Auto'
The band, made up of teen girls Farah Deeba (drums), Aneeqa Khalid (bass guitar) and Noma Nazir (guitar and vocals) came into the public eye after placing third at an annual Battle of the Bands in Srinagar (the main city in Indian-controlled Kashmir) that had been organized by an Indian paramilitary force to win over the region.
Soon after, however, the girls began receiving threats online, being called "prostitutes and sluts," and some demanding their exile. While the girls had a fair share of support, including that of top elected official Omar Abdullah who said that "the talented teenagers should not let themselves be silenced by a handful of morons," Pragaash ultimately decided to disband after cleric Ahmad publicly stated that the girl musicians should "stop from these activities and not to get influenced by the support of political leadership."
"They feel terribly scared and want an immediate end to this controversy once for all," says Adnan Mattoo, the rock group's music teacher and manager. "First, the girls had decided to quit live performance due to an online hate campaign and concentrate on making an album. But after an edict by the government's own cleric, these girls are saying goodbye to music."
G/O Media may get a commission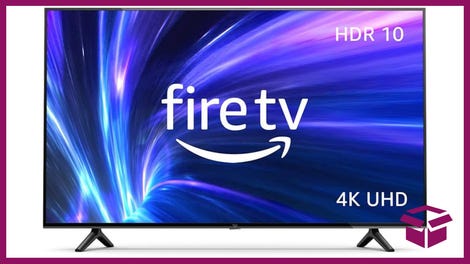 42% Off
Amazon Fire TV 50" 4K Smart TV
Unfortunately for Pragaash, this issue runs deeper than three teen girls deciding to start a band. Indian-controlled Kashmir is in the middle of an intense freedom struggle and the girls have somehow become the poster children used to rile up either side and prove what the separatist alliance calls India's "step toward diverting young girls toward Westernization."
It's unclear whether or not the male winners of Battle of the Bands have received any harassment as well.
Pragaash may have publicly given up on music, but I like to imagine that they're secretly working on some unplugged sets and that, years from now, Behind the Music is gonna mark this as the band's beginning and not the band's end.
Oh, and elsewhere in the world, Minami Minegishi, a 20-year-old member of a Japanese girl band called AKB48, recorded herself shaving her head and tearfully apologizing after the paparazzi caught her leaving her boyfriend's house in the morning. Ugh, let's all start bands and sleep around in protest.
Kashmir girl band breaks up after threats [Miami Herald]
Image via Anton Operin/Shutterstock.