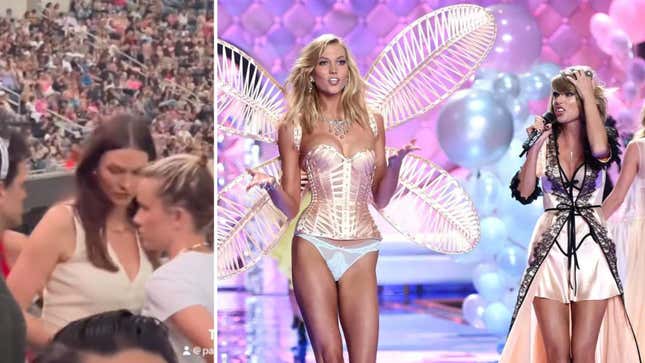 Scores of stars have shown up to the Los Angeles leg of Taylor Swift's The Eras Tour—Meghan Markle, Emma Stone, and Austin Butler, to name a few—and while that's just neat, only one celebrity is currently trending on Twitter after they attended the billion dollar tour: Karlie Kloss.

On Wednesday, the final night Swift took the stage at SoFi Stadium, her ex-BFF turned up with two girlfriends in tow. But instead of holding court in the VIP tent along with all the other friendship bracelet-bedecked celebs, Kloss and Ko. sat in *gulps* general admission. Multiple videos taken by fans show the supermodel taking her seat and later, swaying awkwardly to "Bad Blood." I'm going to go ahead and wager Kloss didn't let Swift know she was coming in advance...
Now, if you're like me (that is, someone who wouldn't pay hundreds to exchange friendship bracelets with complete strangers), you might not immediately understand the significance of Kloss's attendance at the show, nor the irony of her dancing (a generous term) to a song about a relationship gone sour. But I have spent several hours on TikTok as a student of the Swifities, so allow me to explain.
The pair's very public six-year friendship reportedly came to an end in 2019. It's not known for certain why, but fans most often point to Kloss's marriage to Josh Kushner, Jared Kushner's brother, and her friendship with Scooter Braun—the music executive who purchased Swift's master recordings for $330 million only to sell them to a private equity company. Swift and Kloss haven't been seen together publicly since.
Of course, there are also those rumors that these two maintained a little more than a friendship behind the scenes. Enter Gaylor. To quote from my colleague Caitlin Cruz's deep-dive on the phenomenon last year: "Gaylor, or the theory that Taylor Swift is gay, is a cluster of distinct yet overlapping suppositions about Swift's sexuality (bi, pan, queer, fluid?) that hinges upon her purported romantic partners (models, actresses, musicians, friends?) and lyrical clues discovered within her music (a lotta pronoun changes, themes of yearning and secret love)."
Much of the Gaylor lore (Gaylore?) suspects Kloss to be the subject of many a Swift song—most recently "Maroon"—so much so that when Swift sang it on Kloss' birthday last week, the mere performance inspired several reactions like this. Naturally, Kloss's presence last night has prompted pandemonium amongst Gaylors. Don't believe me? Check Twitter and TikTok. Swift's announcement that 1989 (Taylor's Version) is on the way is only secondary. (However, even that detail feeds into Swifties' obsession with Kloss' presence last night: Multiple songs on 1989 are suspected to be about Kloss—or at least about Swift's supposed not-straight dating history.)
Now, while it's very likely that Swift and Kloss were just two regular old friends who got along really well until they didn't, I must note that showing up at your alleged ex's gig out of the blue just days after they sang a song allegedly about you on your birthday is...well, pretty damn fruity. I love it.
---