Once again, Chanel's annual Métiers d'Art show—in Salzburg, Austria this year—has been kicked off with a short film directed by Karl Lagerfeld. This time, it's a dreamy Habsburg fantasy starring Pharrell Williams and Cara Delevingne, who sing a strange and frankly terrible original song titled "CC the World." Good luck evicting the tune from your brain.
The plot, such as it is: Coco Chanel (portrayed by Géraldine Chaplin) is staying in the sort of Alpine resort where the barmaids dress in dirndls. Among them: Delevingne. Pharrell plays an elevator operator who falls asleep and dreams he's Franz Joseph, emperor of Austria (whose painting is on the wall) waltzing with Delevingne, who's turned into his famously beautiful wife Elisabeth—better known as Sisi. Hence the song, "CC the World," a play on both Chanel and the empress. (Pharrell outlines the brand's interlocking Cs with his hands several times, in case you didn't get the message that this is a commercial.)
When he wakes, Chanel notices Pharrell's spiffy jacket and decides to copy it. This, according to Women's Wear Daily, is a nod to the origins of her famous suit.
Though this might go without saying, the mini-movie makes very little sense. Delevingne appears to be a terrible employee, who randomly hops on a lobby bench to pose next to the painting of Sisi and also shoves a waiter for no apparent reason. It's also more than a little strange to pair Chanel, who secured her place in history by helping bust women out of their corsets, with Sisi, a beauty icon who epitomizes the corset era.
Plus, the song is bad. Sample lyrics: "Beauty is not hard to define. It is there, inside, when you open your eyes," and "Don't be blind, be open to see. Could she be the girl to help me see, see the world?" All the while, somebody chirps "C C! C C!" in the background.
G/O Media may get a commission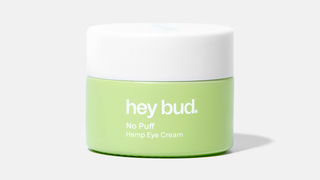 15% off
Hey Bud - No Puff Hemp Eye Cream
Not to mention that Delevingne's dress looks like something purchased at the Disneyland gift shop. That ribbon! Good God! I thought the Métiers d'Art show was supposed to be about craftsmanship, but that fan looks like it was grabbed from a dollar store.
At any rate, the Métiers d'Art show is scheduled for later tonight. I hope it's just a parade of dirndls.