The latest WWD has a piece on how individual designers interpret women's struggles in fashion, pegged in part to the "feminist protest" Karl Lagerfeld staged for Chanel's Spring 2015 runway. And, predictably, Karl says some pretty wacky things about it. Side eye.
In a piece with a soewhat rudimentary title, "Her Story: The Female Role in Fashion," writer Miles Socha observes that the Spring 2015 runways were propelled by spotlighting women's rights and struggles (although I would counter that they always are, they were just more upfront this go-round). The piece is also hinged on the fact that women have, of late, been named for top jobs at storied fashion houses like Hermés (Nadège Vanhee-Cybulski) and Helmut Lang (Katayone Adeli) that have been historically held by men:
"The real picture is that women have never been more important to fashion than now: They are the consumer, and they have the freedom to choose," agrees Clare Waight Keller, the creative director of Chloé, whose founder, Gaby Aghion, died during Paris Fashion Week at age 93. Aghion is remembered as a pioneer who paved the way for female designers and empowered women as they entered the workforce in the Fifties.
The piece itself is incredibly welcome: often, the feminist subtext of certain fashion designers has been lost in feminist critiques of the fashion industry—which is indeed a hot mess of body dysmorphia and capitalist ruthlessness—but the clothes and designers themselves beg for a nuanced appraisal. Miuccia Prada, for instance, has used her career and global success to consistently created some of the feminist and most relevant art in contemporary times. Some of her work should be at the Elizabeth Sackler Gallery, next to Judy Chicago and the '70s period blood paintings (ha). For her Spring 2015 Miu Miu line, Prada was inspired by John Waters' 1974 bad-girls film Female Trouble, as well as Mexican murals of strong women. She told WWD, "I was definitely wanting to represent women who are fighting for their role and rights and who become icons of a certain idea. I think that women have made themselves more relevant, in general, in every field and, therefore, also in fashion. I do still think that there are still a lot of things to be done in this direction and cherish all women who achieve success and power in being themselves."
Lots of women in the piece say smart things about women's place in fashion, particularly Stella McCartney and Donna Karan, who both point out that top jobs in the design field have been often about men designing women's clothing, which doesn't always work in the realms of fit, practicality, and real-world application. (I have a personal rule that I will only wear high heels designed by women or drag queens, because we're the ones who actually wear them.)
G/O Media may get a commission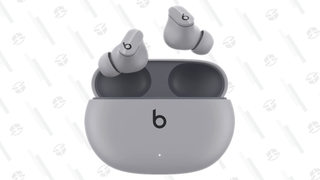 But of course, it's the sole man in the article who says some ridiculous shit, and that man happens to be Karl so it's doubly off the rails. Speaking about his choice to hold a picket line and nonsensical, gestural feminist protest during Spring 2015:
Chanel's street protest was the most overt signal, which Karl Lagerfeld characterizes as a tribute to women's causes, which, he says, "I'm 100 percent behind," suggesting that feminism's roots are in Germany. "It's not aggressive in an unpleasant or left-wing way, you see what I mean?" he says of the demonstration. "But, you see, with the business I'm in, I can't help it."
DOG. It's so classic for a dude who says he's in support of women to also tone it down because he's "100 percent behind" but "not aggressive." And that last part—"I can't help it, with the business I'm in"—seems so flip as if he were saying, well, you know, I had to, because look at all these crazy chicks around me demanding their rights to get divorced and be their own stylists!
This isn't the first time Lagerfeld has spoken about feminism and seemed to totally backhand the movement. Post show, he told Fashionista, "My mother was very much a feminist and I thought it was something right for the moment. I couldn't care less if people are for or against. It's my idea. I like the idea of feminism being something light-hearted, not a truck driver for the feminist movement." Thanks for that bit of wisdom, Karl. Can't wait 'til the women take over the entire industry of making women's clothes.
Image via Getty.