A little over a year ago, when the line "Karen Pence, Your Future Second Lady" was just a fun little goof, Jezebel wrote about then-Vice Presidential candidate's wife's "Towel Charm" business. Shortly after, the website was shut down, with a message explaining that the business had been put "on hold." A gaping hole opened up in the universe.
After publishing a blog about crotch charms that claimed—apparently mistakenly—that "That's My Towel!" Charm, Inc. is currently defunct, it has come to our attention that the charms are, in fact, very much alive, as of an as-yet-undetermined date in 2017. We regret the error.
Towel Charms, in case you are out of the loop, are charms to help you figure out which towel is which. "Who asked for this?" you might ask. "For whom is this a problem?" A year later, these questions remain stubbornly unanswered. But for old time's sake, let's revisit Karen Pence's Towel Charm manifesto, which is back up on the website:
They are a fun, environmentally-friendly, and inexpensive way to eliminate unnecessary laundry, make a statement with your unique charm, and solve the problem of "Who took my towel?"


I designed a charm holder that goes through a towel. My company sells the charm holder and your choice of charm. You can attach the charm holder to your bath or beach towel and identify it as your own. The goal is to eliminate having to wash towels every day because no one knows which towel is theirs. It saves time and money and helps get the bathroom organized. And they are adorable!
G/O Media may get a commission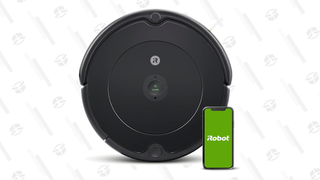 35% Off Black Friday Deal
iRobot Roomba 694 Robot Vacuum
Hell yes! New towel charms, added to the website on June 19, include the "Bucket and Shovel Towel Charm," the "Basketball Towel Charm," and the "Bride and Groom Towel Charm." Also, some great new advice has also been incorporated into the homepage:
I certainly will not—thanks, Karen, and congratulations to the gated communities of Indiana. We've reached out to the Second Lady to confirm the good news, and will update if we receive a response.