My current lifestyle is very different than it has been for the majority of my life. Previously, I was in school or employed at a job that required me to actually leave my home everyday and work in an office. Since I now work from home, my routine has more or less been completely flipped on its head.
Assuming that I don't work from another location during the day, the majority of my time outside of the home and pretty much all of my human interaction comes in the late afternoon. Once I'm done working, most days I'll run some sort of errand, go to the gym and then maybe do something social. I rarely put on makeup to run errands and I don't wear makeup to the gym, mostly because I hate seeing it come off on those nice white towels they give out. As a result, the majority of my grooming occurs as needed and often after 6pm.
Morning
I wake up (THANK GOODNESS). Generally I don't wash my face first thing in the morning, which is totally not weird—Michelle Phan doesn't do it either. I usually go to the gym in the evening, so I shower at night and don't feel the need to wash my face again after just laying in my bed overnight. Sometimes I'll put some lotion on my face if it's feeling dry.
For the first eight hours of my day, all I apply is EOS lip balm. I have about three of these at any one time floating between my purses, my car and between the sheets of my bed.
G/O Media may get a commission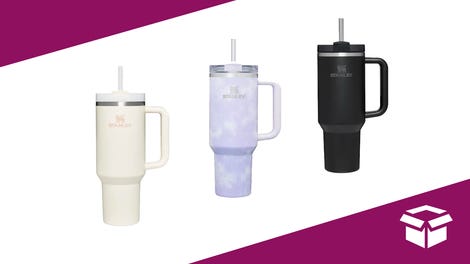 Up to 45% off
Stanley Cup Sale
As you may already know, or as you'll see later, I'm a big lipstick gal, so keeping my lips chap-free is very important. I almost primarily wear matte lipstick and if your lips aren't smooth and hydrated, it's not a good look.
Late Afternoon
My usual routine is to go to the gym around now, but I don't today because I've already been four days that week and ya girl is tired. But as I said before, I don't wear makeup to the gym so it doesn't really matter. For some reason I decide to paint my nails. I used to be much more into my nail aesthetics than I am currently. Now I only paint them when I have some downtime or if I have an event coming up. For color I use OPI San Tan-Tonio, which is the closest I've found to a "nude" for my skin tone, ORLY Bonder base coat and ORLY Won't Chip top coat.
Evening
I'm going out into the world tonight and it is time to prepare myself for that feat. I begin by hopping in the shower. I have a thing about using both a soap and a body wash. "The former is to clean, the latter to soften," is my thought process. I use Dr. Bronner's Castile Liquid Soap in Almond. This stuff is great and even though a big bottle will run you about $20, a little goes a long way so it lasts forever. I've had my bottle for about five months and I've barely used half.
One of my friend's roommates has the softest skin. When I asked her about products, she explained that she uses baby lotion which keeps her skin feeling...like a baby. I found this more than a bit dubious but figured it was worth a shot. I don't remember how exactly it went down, but what I think what happened was I went to the drugstore looking for the baby lotion, couldn't find it and just got the Johnson's baby moisture wash with shea & cocoa butter instead. Maybe it's because I half-assed it, but this did not make my skin feel like a baby's. I'm just trying to use up the whole bottle at this point.
For my face, I use Neutrogena Oil-Free Acne Wash Pink Grapefruit Facial Cleanser. I've used some Neutrogena cleansing product for as long as I can remember. I moisturize with Kiehl's Ultra Facial Cream. This stuff is as good as all the reviews claim, but sheeeeiiit it's expensive. I bought the small size because the larger one was $46 fucking dollars for 4.7 ounces. I can't ball like that just yet. Most of the time I use Olay Complete with SPF 15 during the day and Kiehl's at night but it was already night when I began this little dance.
Let's pause for a quick aside: Very often, 40+ year-old white women will come up to me and compliment me on my skin. They always want to know what products I use. I assume they expect me to rattle off some list of fancy products or share some secret African oil they've never heard of. They always seem disappointed when I tell them the truth. I've never actually said this to any of them, but I always want to reply: My skin looks great because I'm 26 years-old and I'm black. Melanin and youth are on my side. "Melanin" is pretty much always the answer to any question or compliment about my appearance.
I have nothing to say about my Degree MotionSense deodorant in Shower Clean other than that I use it and it works. Following that, I cover my whole body in a light coating of extra virgin coconut oil and seal that with Lubriderm Intense Skin Repair. As a rule, I buy products for extra dry skin even though my skin isn't particularly dry because I feel like they're hiding some sort of secret. Like, why not just put the extra good stuff in the regular product? They can't trick me. This combination gives my skin a really great glow. Jennifer Lopez changed my life in many ways, but perhaps her most important lesson was that you always need to find your glow. Your face should glow, your hair should glow, your skin should glow, your dress should glow. EVERYTHING SHOULD GLOW.
Makeup time. I would rate my makeup use at a Medium. I definitely put some effort in, but I cap my application time at about twenty minutes unless I'm trying something super fancy. I start with Revlon PhotoReady Perfecting Primer. Primer is weirdly expensive and it's one of those products where I'm not at all convinced that the premium stuff is better than what you get at the drugstore.
Recently I decided to be an adult and drop some real money on good foundation. A friend who works in the beauty industry suggested Armani and I am now a believer. I use Giorgio Armani 'Luminous Silk' Foundation in No. 8.5 and it is worth every penny. I don't need or like a ton of coverage, so between this and a bit of Make Up For Ever Full Cover Concealer in whatever color the girl from Sephora told me to buy under my eyes and on this weird birthmark I have over my left eye, I'm good to go, foundation-wise. Then I brush my whole face with MAC Mineralize Skinfinish Natural powder in Medium Deep because I started using it a few years ago and never found a reason to stop.
My eyebrows are very important to me. You know that Morrissey quote about how if your hair is wrong, your entire life is wrong? My life is like that but with eyebrows. I like them full and dark. I start by outlining them with the shaping wax from Benefit's Brow Zings brow kit in Dark and then brush and fill them in with the Anastasia Brow Wiz mechanical brow pencil in Ebony. I also recently found an amazing aesthetician at the Nordstrom Anastasia Brow Studio at The Grove. This woman used to work at the Anastasia salon so it's basically like getting an Anastasia brow wax for not Anastasia prices. It's only about $15 less but it still feels like a win.
I tend to keep my eye makeup fairly uncomplicated, one, because I'm not great with all the blending that is necessary in those YouTube tutorials and two, because eye makeup application can take a lot of time and I don't care enough. I knew earlier in the day that I wanted to wear dark lipstick, so I want to keep the rest of my face on the simpler side. I use Stila Stay All Day Waterproof Eyeliner in Intense Black to draw a short, stubby cat-eye. I prefer a short, thicker cat-eye, à la Nicole Richie, almost primarily because it's easier to pull off and correct mistakes. I use a basic brown eyeshadow from MAC in Espresso on my crease and brush Dark Chocolate from The Body Shop Shimmer Cubes Palette over that for a little something extra.
This will definitely come off as a not at all humble #humblebrag, but I am lucky to have naturally long and curly eyelashes. (I got them from my dad.) For that reason, I don't drop a lot of money on mascara because I don't really need a miracle worker. I do use two mascaras—L'Oreal Voluminous Mascara Curved Brush in black for some thickness and Maybelline Volum'Express The Rocket Mascara in Blackest Black for a bit more length. For some glow I use Nars Illuminator in Orgasm on my cheeks, forehead, and chin.
My outfit for the evening involved some low-cut action, so I used Jergens BB Body Perfecting Skin Cream on my cleavage for MORE GLOW. I purchased this product on a whim during a Target run. It works pretty well but not sure if I would repurchase. I often think of splurging on the Nars Body Glow, but then I remember that I have melanin and a couple hours in the sun will give me a very similar glow-y tan for free ninety-nine.
The night before, I braided my hair into two french braids, which I kept in all day. To take the braids out, I dip my fingers in Oyin's Whipped Pudding to give it a little sip and moisture as I unbraid. I tease my hair out and put in some Oyin Hair Dew for more moisture and pull it up into a puff. My hair routine changes constantly based on my level of energy and how many people I'm going to see that week. I've only been using Oyin products for a couple months now but I'm very happy with our current relationship. I spritz on Jimmy Choo Eau de Parfume for fragrance and I'm almost ready to go.
WE'RE JUST ABOUT DONE WITH THIS MARATHON, FOLKS.
Lipstick is life. Most of the time I think about what shade of lipstick I want to wear and then build my makeup and outfit around that choice. Because I have a sad, sad addiction, I have three matte MAC lipsticks that are essentially the exact same color: Sin, Living Legend and Lingering Kiss.
Sin, which is on the left, is a bit more purple than the other two, but the difference is laughably minimal. When I feel like wearing this shade, I'll pull out all three and pick one at random because it makes absolutely no difference. I line my lips with Mac Pro Longwear Lip Pencil in Bespoken For and apply Lingering Kiss which I had to buy on Ebay for $30 because it was sold out online and in stores. You may be wondering: Kara, did you know that you already had two other almost identical shades when you overpaid by 50 percent for that lipstick?
I choose not to answer that question because if you don't get it, you never will.
My whole goal with makeup is to look like I put in more effort than I really did. If it looks hard or time consuming, it isn't. That's why I like lipstick so much. It instantly elevates your look and makes you look 60 percent more pulled together.
This is the finished product.
For the record, my selfie skills leave much to be desired and this was not the most opportune lighting. My hair was bigger than the photo shows and my lipstick looked more matte, but you get the idea.
2 AM-ish
I really, really try to always wash my face before I go to bed because I can see a noticeable difference in my skin when I don't and there's a good chance I'll break out. I sometimes like to wash off the makeup on my face but not my eyes. I really like the look of slept in eye makeup. Tonight, however, I use coconut oil to remove the eyeshadow, mascara and lipstick. I wash my face with the same Neutrogena cleanser. I moisturize with my Kiehl's and add a few drops of Trader Joe's 100% Pure Jojoba Oil which is only about eight bucks in the store. The area around my chin used to be really dry and two drops of jojoba oil a day has completely changed that. I also use this stuff in my hair. Jojoba oil is magic.
If I'm up for it, I'll re-braid, twist, or put my hair in bantu knots before I go to bed, but tonight it was late and I was lazy so I just went to bed as is. I swipe on more EOS lip balm and put a bit of Vaseline on top before I pass out.
---
What a journey, friends.
I put a lot of stuff on my body. Worth it.