On this week's episode of CSI: Taylor Swift our A-Plot was Taylor Swift; our B-Plot was MILF MONEY; and our C-Plot was Taylor Swift. #LEGGO

At Kris Jenner's home, Kris talks with Scott Disick and Kimberly "Emily Thorne" Kardashian West. Kim wants to warn Kris about Kanye's upcoming Famous music video since it will feature nude versions of some the most noted Kardashian/West/Jenner enemies. Kris isn't as verklempt as Kim would assume, even when she mentions that Caitlyn Jenner will appear in the video. She is, on the other hand, confused by Kanye's obsession with Caitlyn, but Kim's not, since Kanye likes "authentic people." This leads the trio to discuss how Caitlyn wasn't authentic for years while "he" lived a lie. Scott then asks Kim to clarify the Kanye/Taylor feud because he thought she was down with the lyrics to Famous. Kim explains that she was down, and she's just a fake liar who got freaked out by the reaction to the song. This scene was filmed on June 16, 2016, the same day that Kim Kardashian's GQ article was released in full online.
G/O Media may get a commission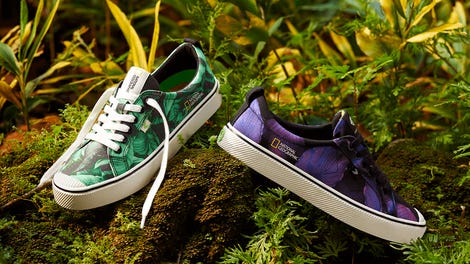 New New New
Cariuma + National Geographic
Scene 6B:
During Scene 6, the House of West blesses us with footage of Kanye in the studio playing Famous for his wife, Kim Kardashian West, and sisters-in-law, Kourtney Kardashian and Kylie Jenner. Head bops abound as Kanye raps along to the infamous lyrics that have now torn the nation apart. Despite the old-timey quality of the film, this footage was filmed on January 23, 2016.
At the Wests', Kim Kardashian West sits down with her friend, Jonathan Cheban. Kim, who has been working on emails all day, tells Jonathan that she needs to slim down real quick because Fergie has asked her to be in her latest music video. The video is about MILFs, so Kim doesn't want to look unworthy of the term. Homegirl is legitimately anxious about her body, but plans on working it out in time for the shoot. She also admits to measuring her butt as she loses baby weight. This scene was filmed on March 14, 2016.
At Khloe's house, Khloe plays on Snapchat with celebrity hairstylist, Jen Atkin, while Kim puts out a Kanye West fire. Kim gets a phone call from Kanye's publicist saying that his SNL rant where he mentions Taylor Swift has been recorded and released. This immediately upsets Kim, who then gets a call from Kanye. Kanye doesn't really care about the leaked audio because he "was upset," but he is willing to follow Kim's lead on this if she thinks it is a massive issue. Kanye does wonder if it's illegal for someone to record audio of him without his knowledge, to which Kim says "not in New York, not in New York." Kim also tells Kanye that she feels like her full time job is working as his publicist. Kim decides to consult with their team, but advises her husband to "lay off Twitter." She also tells Khloe that she has to "think smarter for him," as "the wife of Pablo." This scene was filmed on February 18, 2016.
At Khloe's home, Khloe and Kourtney get glammed for a Grammy party. One of their beauty technicians asks them what will happen if they see Taylor Swift at the turn up. Khloe doesn't seem to care because she doesn't know her, but to be safe, she and Kourtney call Kim. Once Kim is on the mainline, Khloe and Kourtney ask their sister about the video footage of Taylor OK-ing the lyrics about her in Kanye West's Famous. Kim tells them that the video is "so good," explaining that Taylor explicitly gave her blessing. This upsets Khloe, who threatens to upload the video to clear Kanye's name. Kim tells Khloe not to, and expresses her interest in not getting any other Kardashians involved in the drama (which, too late). Still, Kim sends the video footage of Taylor to her sisters. They watch it in awe. By the end of the scene, Khloe goes from an indifferent Taylor Swift observer to #TeamKatyPerry #TeamCalvinHarris #TeamTaylorIsASnake and creates a Paperless Post invite to a #TaylorSwiftIsOverParty. This scene was filmed on February 16, 2016.
Scenes 16/17: Filmed on May 7, 2016
It's finally the day of Kim's MILF MONEY video shoot with Fergie, and she's brought Kanye West along to assist with beauty and wardrobe. As Kim gets into over-the-top glam for the shoot, her husband asks her and her team to tone down the look because Chrissy Teigen looks "normal." He also expresses sincere concern for Kim's brand and how a pin-up red lip and platinum blonde hair might destroy all she's worked for. Kim agrees, and is beyond thankful for Kanye's input.
After re-working her image, Kim heads to set to film with Fergie and Chrissy Teigen. Each MILF looks stunning. These scenes were filmed on May 7, 2016.
Kim visits her older sister Kourtney at Kourtney's house. After quickly asking Kourtney about a Cosmopolitan interview coming up, Kim dives deep into a GQ interview she just had. Kim tells Kourtney that the interviewer asked her straight up about Kanye rapping about having sex with other women, particularly having sex with Taylor Swift. Basically, Kim tells Kourtney that she got fed up in that moment and exposed Taylor as a liar to the interviewer. She tells Kourtney that she told the interviewer about the tape and Taylor's attempt at re-writing the final lyrics for Famous. Proving that she's not just a callous person looking to take down a pop star, Kim admits her remorse for how Kanye embarrassed Taylor in 2009. However, Kim says that the 2009 incident could have happened to anyone because "we all know that 'Single Ladies' was the best song of the year and he just wanted to stand up for it." Even with the little sympathy Kim has for Taylor, she thinks that Taylor enjoys playing the victim and she simply won't let her get away with it this time. Kourtney is proud of her sister for standing up for herself, and both ladies seem hopeful for a Taylor Swift-less future. This scene was filmed on May 29, 2016.
Kim Kardashian West continues her Taylor Swift Take Down Tour, down the street at Kris Jenner's house. Kim wants to chat with her mom about the Taylor situation, but things don't go exactly as she had planned since Kris has yet to enjoy the GQ article in which Kim reads Taylor for filth. However, Kris is concerned with how viciously and quickly this feud has escalated. She also advises Kim to maybe just call Taylor up and clear the air. This is a particularly important issue to Kris because she likes Taylor, Taylor's mom and Taylor's team, so she would hate to lose a relationship with Taylor Swift because of a simple miscommunication. Kim politely tells her mother that she will not take her advice and immediately begins her plot to snatch Taylor's edges and bury them with her career on the evening of July 17, 2016. This conversation was filmed on June 23, 2016.
Dolls, we got more out of this episode that we could have ever dreamed, and it's a blessing that we got to spend this time together. Stay safe online and make sure to catch me here next week for another KUWTCharacter Assassination re-cap on #KUWTKE. #ByTheGraceOfKim
---
Mariah Smith is a writer and comedic performer who keeps up with the Kardashians. For more Keeping Up With The Kontinuity Errors, click here. You can follow her on Twitter @mRiah.
Images via E!