Hahahahahahaahahaahahahaahahaahaaha. I don't want him to be quiet, but I love that headline. After being raked over the coals over and over in 2013 (for saying TOTALLY LEGIT SHIT, BY THE WAY), Kanye West has vowed to pour his 2014 energy into creativity instead of talking.
Apparently, Kanye West is tired of the world criticizing him for sticking his foot in his mouth. The rapper went on a 27–minute–long rant at his Toronto show, saying he'll stop speaking negatively for "six months, at least."

His oddly–musical stream of conscious described how West is looking forward to 2014, and even 2024. "I decided to completely focus everything in 2014 on all the new ideas and all the creative outlets," he said.

The rapper referenced the disagreements he has had with Nike, and promised to move forward from it with a positive attitude. "I'm not [going to] ever bring up Nike again. And the only way I'll bring them up is in a positive light," he said. "Because I actually appreciate the opportunity to have been able to make my own shoe with them, and if I didn't have the opportunity I wouldn't have my deal I have with Adidas right now."
YOU DO YOU, KANYE. [HuffPo]
---
Questlove apologized for some insensitive things he posted while on a trip to Japan this week. The apology is really really good.
look. i'm a human being and dumber yet, i'm a public figure. if you're lucky enough to be either of the aforementioned, then not only should one stay clear of saying or writing hurtful things, one should actively work against feeling comfortable, thinking hurtful thoughts. given that black culture consistently finds itself at the butt end of so many offensive "outsider" jokes, I should be way, way more sensitive (after all, who's zooming who). I for one, should never allow my cultural bias to take precedence over my "examined life" (clunkers be damned). i know the whole kinder and gentler thing reeks of a self serving political correctness, but eff it, it's "all me".

so, here i am once again, publicly coming to terms with some more of my stupid "say, say, say" ish. allow me to ask for forgiveness and understanding from anyone that i've offended. I will be better in 2014 (i promise)
G/O Media may get a commission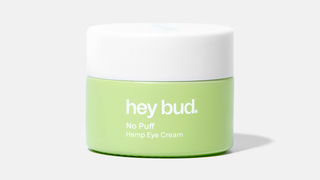 15% off
Hey Bud - No Puff Hemp Eye Cream
That's how it's done, folks. [OkayPlayer]
---
Brandi Glanville "fully fucking admits" that she has been a "hot mess" lately. But, in the coming year, she's determined to become both room-temperature and tidy.
"As of today I have a new outlook. No more feeling sorry for myself because I had a rough year or some pathetic, phony famewh— can't stop talking about me and throwing bulls— labels my way. I know exactly who I am — and that is a good person who says stupid s– sometimes and lives without prejudice in my life," Glanville wrote on her Bravo blog.

LeAnn Rimes' nemesis went on to finally admit her hard-partying ways got out of hand this year.

"I was a hot-mess for part of this season, and I fully f—ing admit that.

"I'd like to say thank you to the people in my life that love me through the good times and the rough times and who don't jump ship because I'm not having my best year," she added.
I mean, K. [Radar]
---
Nobody liked Britney Spears's "sneak peek" documentary.
According to new ratings data from Nielsen, the sneak peek at Spears' Vegas show brought in just 706,000 viewers when it aired on E! on Sunday night, leading to some online critics to label it a "flop." That same night, ABC's airing of the 1965 version of The Sound Of Music brought in more than 6.5 million.
Yeah, I wasn't even aware that that happened, so. [Radar]
---
Miley Cyrus clowned on Joe Jonas. [E!]
Also she is having a "fling" with somebody, maybe. [Radar]
Kellie Pickler went on a USO tour. [Extra]
THIS FAMILY, MY GOD. NEVER EVER EVER BREAK UP. [E!]
William and Harry and Harry's beard played soccer for charity. (Harry's beard won. Everything. Ever.) [E!]
Kaley Cuoco and Ryan Sweeting celebrated their first Christmas as a couple. [JustJared]
Producer Allan McKeown, husband of Tracey Ullman, passed away from prostate cancer at age 67. Huge condolences. [THR]
Jeffrey Pollack, who directed Booty Call, died suddenly while jogging at age 54. [E!]
Beck is reportedly a terrible tenant. [TMZ]
DITA'S KIMONO THO. [TheCoveteur]
Hilaria Baldwin kissed her baybay. [E!]
You do you.

Images via Getty.