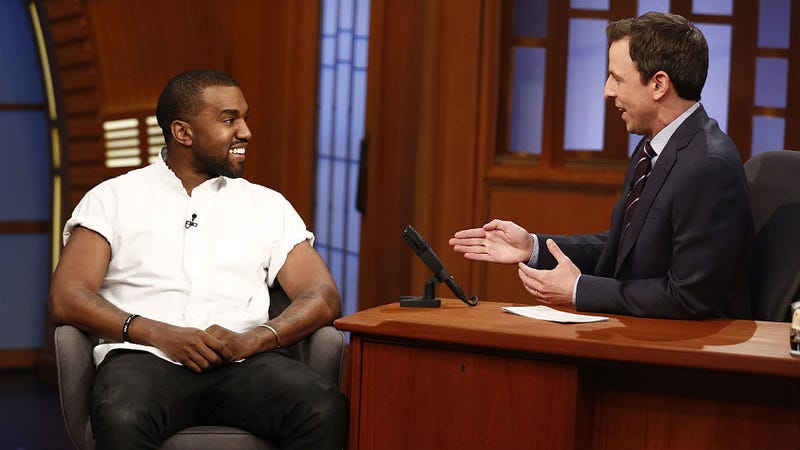 Kanye West stopped by Late Night With Seth Myers on Tuesday to talk about his baby daughter North West and how being a parent will affect his art moving forward — or not.
"[I'll make] 'artistic intellectual kid-friendly songs," he said. "You go to Europe and it's nudity on TV, it's all in the way you are raised to have an understanding and an appreciation for what you're looking at and what you're hearing and why you're hearing it. If you think about the Yeezus album, cursing was definitely necessary. If you asked Quentin Tarantino, 'Are you gonna make G-rated movies now?' It's Quentin Tarantino."
'Ye also touched upon his clothing line, again. Can someone just give this man a few million already? I mean, he's obviously fashionable and someone will wear this wares, even if it's just the Kardashian brood. West, among other things, also talked about performing in a mask during his Yeezus tour because it's "freeing."
"[It's] a place where you can express yourself to your audience without being judged, or having to live up to whatever your name is supposed to represent, or whatever it means or doesn't mean. It's like being a new artist again, that's why I performed most of the show in a mask."
When your own face is too much ... #firstworldproblems
Image via Getty.