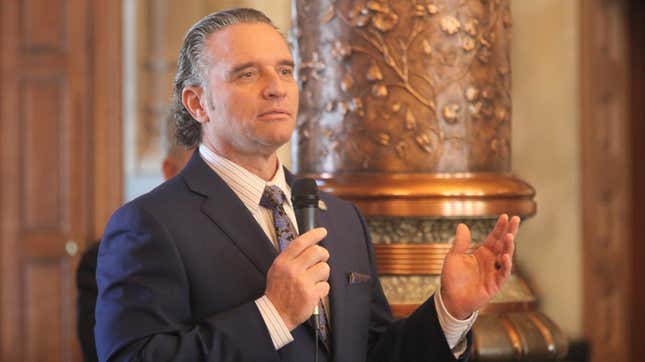 On Wednesday, the Kansas legislature banned trans students from girls' and women's sports starting from kindergarten and continuing through college. With a supermajority in both the Kansas House and Senate, Republican legislators overrode the third veto by Gov. Laura Kelly (D) in three years with both chambers barely clearing the required two-thirds majority. The bill will take effect, barring any legal intervention, on July 1.
Kansans Rejoice As They Vote to Protect Abortion Rights
Advocates say the bill—which only restricts trans women and girls, not trans men or boys—could open kids to "potentially invasive examinations" just to be able to participate in an after-school activity. "The sports ban has never sincerely been about protecting women's sports," Micah Kubic, Executive Director of the ACLU of Kansas, said in a release on Wednesday. "Rather, it arises out of the same gender discrimination, stereotyping, and paternalism that has held back progress for cisgender women athletes for centuries, and will now open up all girls and women to potentially invasive examinations just to be able to participate."
The House was able to reach the two-thirds majority after a single freshman Democratic lawmaker decided to vote with Republicans on the so-called "Fairness in Women's Sports Act." Rep. Marvin Robinson (D) declined to explain his decision to deliver Republicans this veto-proof majority, per KCUR.
Back in February, state Rep. Barbara Wasinger (R) said the enforcement of the legislation would be done at a "sports physical," but she wouldn't specify if that meant opening students to genital inspections. In a statement to BuzzFeed News, Wasinger clarified that it will be coupled with a birth certificate. "Sports physicals are done for every athlete participating in schools sports," Wasinger said in the statement. "Every child in Kansas must provide a birth certificate to attend school in Kansas. Both should be enough for any student."

The bill is deeply distressing for a number of reasons. First, Republicans have taken a three-year crusade to target exactly three (3!!!!!) trans girls who competed in 7-12th grade sports in the last year, per the Associated Press. In college, this number only increases to fewer than 500 of the roughly 219,000 women who compete collegiately. And the idea that doctors might be required to perform a genital exam so that a child can play sports opens them up to all sorts of trauma and humiliation in addition to violating the doctor/patient relationship.
While Kansas isn't the first to bar trans girls and women from competing in sports (that award goes to Idaho), this isn't the last piece of legislation that will target trans people in Kansas. Republican lawmakers are going after nearly every way that trans people exist in the world, including public restroom and locker room use, as well as barring changing gender markers on identification cards.

When conservative pundits say they want to eradicate trans people from public life, you should absolutely believe them.