Much has been written about Kacey Musgraves's third non-holiday LP—the tender, achingly romantic Golden Hour—as being either an edgier version of country music, or something else entirely. So much, in fact, that I've stopped reading anything with a reference to it being "not quite country" in the headline.

At the risk of sounding like a stubborn asshole, I have no interest in reading musings about country music from someone who grew up in a bustling metropolis in the heart of a blue state. I'm thrilled to watch them stan—don't get me wrong—and I would never rip up their Kacey Klub membership cards or bemoan Musgraves herself for being so universally appealing, but have always interpreted the subtext of this argument—that her music could not possibly be "real" country because they, city folk who have never been able to stomach the stuff, miraculously think it's pretty damn good. To me, a fellow Texan from a speck on the map roughly the size of Musgraves's beloved hometown of Golden, it's everything good about country music, written and performed by someone who has no interest in leaving the genre behind.
Like Dolly, Tammy, Loretta, Reba, and Shania before her (isn't it fun how all these women are unofficially mononymous?), Kacey has crafted an album about a woman scorned, a woman in love, and a woman doing things exactly the way she wants. Throw in the reference to her teeny tiny hometown in the title (the name Golden Hour carries so much weight here) and you've got an album that's as country as country gets.
It begins with "Slow Burn," a gentle, almost Sufjan-like introduction about her preference of drifting through life at a comfortable crawl, never beholden to societal pressures like, for example, being on time. "I'm all right with a slow burn, taking my time, let the world turn," she sings in the chorus, one of a surprising few references to weed. (While it was once a favorite subject of Kacey's, lighting up and taking a puff is noticeably less explicit here than in previous two albums. In a recent interview with The Fader, she said she's cut back on the morning bong hits.) And I have to mention another lyric that won't leave my head—one that's dumb, perhaps, on paper, but strangely evocative and humane in song: "In Tennessee the sun's going down/But in Beijing they're headed out to work." Like so much of her best music, it makes me think, "...Damn. Put it on a koozie."
G/O Media may get a commission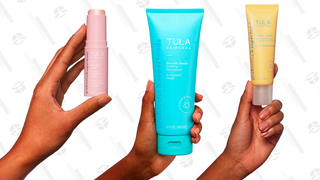 This moseying pace continues on "Lonely Weekend," her ode to staying in and resisting FOMO that—despite being the weakest moment of the album, like a song created on a pad of Kacey Mad Libs—would still be the perfect accompaniment to the sound of an old blender crushing ice, rum, and your local grocery store's cheapest piña colada mix. Doesn't that sound nice?
Despite its relaxed, content-with-alone-time introduction, most of Golden Hour is about being with the man she loves, which makes sense to any fan who's been keeping up with her personal life. In the three years since her last album, she broke up with a long-term boyfriend and married country singer Ruston Kelly. (I recommend looking at their wedding album on Instagram.) And while she fails to outdo the simple elegance of Pageant Material's "Late to the Party," a perfect love song, she keeps her focus on romance more steadily across this album than she has in the past. There's the dreamy, dumbstruck "Oh What a World," the trailer-music wannabe (I mean that as a compliment) "Happy & Sad," the heart-swelling bliss of both "Love Is a Wild Thing" and "Golden Hour," the sexy and enjoyably trashy "Velvet Elvis," and, of course, "Butterflies." As one of the album's two lead singles, this stunner is the wedding-ready yin to the tear-inducing yang of "Space Cowboy," a breakup song whose standout lyric, "You can have your space, cowboy," still manages to wreck me after dozens of listens.
But beyond the slow dances and wedding bells, Musgraves still works in plenty of music that's begging to be performed at a karaoke bar... or, if you're in no position to drive, through a store-bought microphone in a friend's living room. "Wonder Woman" is one of the album's greatest reminders that she is a master at refreshing overused cliches by supplementing them with clever writing and earnest delivery.
Baby, I ain't Wonder Woman

I don't know how to lasso the love out of you

Don't you know I'm only human?

And if I let you down, I don't mean to.
And we haven't even gotten to what will likely be the album's biggest hit. The first time I heard "High Horse," which I'm proclaiming right now as the Song of the Summer, I gasped at the disco beats of its introduction. I laughed at no fewer than three of its lyrics ("I bet you think you're John Wayne/You're classic in the wrong way/Why don't you giddy up, giddy up, and ride straight out of this town"). While listening to its chorus, which I'm sure you can piece together based on the title, a friend wondered aloud, "I wonder how long she's been sitting on that pun." "High Horse" is a deviously, frustratingly catchy anthem for anyone sick of some egotistical asshole—a "That Don't Impress Me Much" for today's generation that, like Shania's 20-year-old classic, marches along the outskirts of country radio without ever taking off its boots.
Throughout my first few listens to Golden Hour, I was struck with a very silly sadness that I presume is often felt by those who grew up driving and eventually transitioned into carlessness: living in a city where owning a car is both practically unnecessary and a logistical nightmare makes one of the greatest ways to enjoy music nearly impossible. Save for the occasional weekend rental or favor from a friend, I never have the pleasure of sitting in the driver's seat of a car, in complete control of a pulsing sound system surrounding my body, zooming down dark, mostly empty roads. It's a common complaint among transplant friends of mine—this love of listening to music in one's own car, on one's own terms. Which is why, some two weeks into my acquisition of Golden Hour, I was given the opportunity to not only listen to it while renting a car, but while I was visiting the state both Musgraves and myself call home.

One night, while driving back to my sister's house after a late dinner, I missed an exit off the hell that is Interstate 35. This error forced me to drive two miles in the wrong direction, meaning I needed to drive another two more miles to return where I needed to be. In the grand scheme of things, it was a minor detour unworthy of too much frustration, but I banged the steering wheel and yelled at the taillights, overcome by the realization that, nearly a decade after my Big Move, home was finally slipping away.
I put my favorite song from Golden Hour, the stunning, hopeful "Rainbow," on repeat, and—back on autopilot—was parked in front of my sister's house in less than half an hour. With my keys in hand and Kacey finally silenced, I noticed the TV flickering in the living room and walked to the front door. They left it unlocked for me.